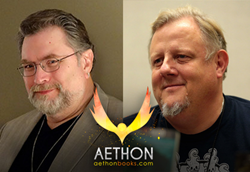 "Aethon has a terrific lineup of military sci-fi books and are plowing forward to conquer a big chunk of that market."--Jonathan Maberry
FORT WORTH, Texas (PRWEB) May 03, 2021
Jonathan Maberry and Weston Ochse have inked a three-book deal with Aethon Books to publish "The Sleepers," a space opera series with a strong military structure. The plot of "The Sleepers" regards humanity creating teams of genetically enhanced super soldiers to defeat an army of invading aliens known as the Flock. But when the Flock is defeated and no longer needed, what will be done with them becomes humanity's greatest question.
Rhett Bruno and Steve Beaulieu founded Sci-Fi & Fantasy Publisher Aethon Books in 2018. They are most known for publishing books by bestsellers such as Paul Antony Jones, Joshua Gayou, Yudhanjaya Wijeratne, as well as a work of original science fiction by Actor Lou Diamond Phillips.
Beaulieu states: "Aethon Books is honored to sign two prolific authors who have had such incredible careers." Says Bruno: "We plan to use our unique brand of marketing to help broaden the audience of our new signers as well as bring another tremendous work of science fiction to our readers."
The authors had this to say about choosing Aethon:
"Aethon has a terrific lineup of military sci-fi books and are plowing forward to conquer a big chunk of that market," said Maberry. "And they're having a lot of fun doing it. Sleepers has found the right home for sure."
"The chance to partner with Jonathan Maberry has been one of my greatest wishes," said Weston Ochse. "Working together, I am convinced that Sleepers is going to take the world by storm and I am extremely pleased that Aethon will helm its trajectory."
Maberry is a New York Times bestselling author, a five-time Bram Stoker Award winner, comic book writer, and editor of Weird Tales Magazine. His vampire apocalypse book series, "V Wars," is a Netflix original series starring Ian Somerhalder ("Vampire Diaries"). His other works include the Joe Ledger thrillers, "Glimpse," the "Rot & Ruin" series, and the "Dead of Night" series.
Ochse is called "one of the major horror authors of the 21st Century" by the American Library Association. He's won the Bram Stoker Award, been nominated for the Pushcart Prize, and won four New Mexico-Arizona Book Awards. His military supernatural series SEAL Team 666 has been optioned for film by Dwayne Johnson.
The deal was negotiated on the authors' behalf by Sara Crowe of Pippin Properties. The first novel in the Sleeper Series is scheduled for release in Spring 2022.