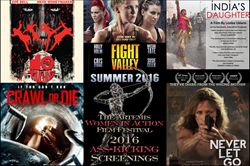 "Until women are portrayed as physically equal we will continue being seen as less." - Melanie Wise Founder Artemis Women in Action Film Festival
Los Angeles, CA (PRWEB) February 24, 2016
The Artemis Women in Action Film Festival will open Friday, April 22, 2016, in Los Angeles. The inaugural edition was an incredible success and this year is shaping up as more significant event. The festival's opening event will be the Friday Red Carpet Gala featuring the premiere of the female action feature Fight Valley, starring the woman who defeated Ronda Rousey, UFC champ Holly Holm, and the world premiere of No Touching, the long awaited horror short starring Zoe Bell and Heidi Moneymaker. The only place Fight Valley and No Touching can be seen is at The Artemis Film Festival.
The US premiere of British National Film Award nominee Never Let Go, directed by Howard J. Ford and starring Angela Dixon, is also set for the Friday night lineup.
Actress Yancy Butler (Witchblade, Kick-Ass, Kick-Ass 2) will be honored with the Action Powerhouse Award for her many female action hero turns. Superstar stuntwomen/actresses Zoe Bell (Hateful Eight, Death Proof, Kill Bill, Xena) and A List stuntwomen Heidi Moneymaker (Iron Man 2, Captain America: Winter Soldier, Furious 7), Dayna Grant (Mad Max, Hercules, Ash Vs. Evil Dead, Xena), and Jessie Graff (Bridesmaids, Barely Lethal, Bad Teacher, American Ninja Warrior) will be recognized with awards as well at the Red Carpet Gala Friday, April 22, 2016.
Radio legend Sheen Metal will broadcast her drive-time radio show The Sheena Metal Experience during the Red Carpet Gala and Go Curvy founder Sherry Lee Meredith will conduct live interviews from the Red Carpet.
Saturday night will feature a premiere of Crawl or Die, an action/horror film with a huge international following. Directed by Oklahoma Ward and starring Nicole Alonzo, the film is chock full of female action heroics.
Sunday boasts a special screening of a globally renowned, searing documentary India's Daughter, which focuses on the rape crisis in India. Directed by Leslee Udwin, the film has been banned in India. Physical and sexual abuse of women is a worldwide crisis and this film shines a much-needed light on the issue. Ms. Udwin will be present for a one hour Q & A after the film.
Tickets for the festival are now available for purchase at http://www.WomenKickAss.com.
"We want to show you the films Hollywood doesn't want you to see," said film festival Founder Melanie Wise. "Everyone suffers when more than half of the population is deemed weaker, less capable, less worthy, etc. Our festival is our stab at changing these age-old, archaic, restricting perceptions that literally bleed culture dry."
"We want our festival to reach a broader audience than those groups and people who are already aware of the problems of female portrayals in film," remarks Co-Founder Sean Marlon Newcombe. "We want to spread the message that female physical empowerment leads to female cultural empowerment. The excitement of action films with women as leads will open up different and broader demographics to the message of female empowerment."
"Until women are portrayed as physically equal we will continue being seen as less." - Melanie Wise Founder Artemis Women in Action Film Festival