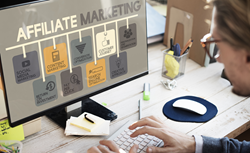 Miami, FL (PRWEB) April 26, 2017
Experience Advertising, Inc., a leading affiliate marketing management and affiliate recruiting agency, has been named the best ranked affiliate marketing management company for May 2017 by TopSEOs.com's list of the best affiliate marketing companies in the affiliate marketing industry. TopSEOs.com uses several objective criteria when evaluating the top affiliate marketing companies and affiliate agencies in the affiliate marketing industry and the digital marketing arena as a whole. Experience Advertising has dominated the best in affiliate marketing services rankings for the past 7 years, due to their overwhelming excellence in both affiliate/publisher recruitment to grow affiliate programs, as well as their superior affiliate management processes which includes their industry-best affiliate newsletters and their 24/7 affiliate marketer support, which they are renowned for in the affiliate marketing industry.
Experience Advertising, Inc., founded by highly sought after e-commerce and digital marketing consultant Evan Weber, has been refining their ability to both recruit targeted, relevant affiliate marketers and web publishers, as well as increase production with current affiliates and publisher/partners for the past 10+ years. Prior to launching Experience Advertising, Mr. Weber was the Director of Marketing for a very successful B2C and B2B dental plan portal where he orchestrated all of their digital marketing and affiliate marketing/referral marketing expansion from 2002- 2007. Since launching Experience Advertising in 2007, Weber has put the primary focus of his agency on helping the affiliate marketers under their management to become more effective digital marketers and social media mavens, so they can increase their commissions with the affiliate programs they participate with.
Weber stated, "I put everything I have learned, and continue to learn, in my 20+ year career in digital marketing and social media, into helping our valued affiliates and web publishers, mainly by composing helpful articles and videos, designed to educate our affiliates and partners. I have always provided our affiliate's phone support that's available on a 24/7 basis. When they call for some affiliate support or to have their question answered, they end up speaking directly with me, which is always exciting for myself because I know the call is going to go better than they are expect when they dialed our support number (i.e. my mobile phone). Our mission in a nutshell is to help every affiliate marketer, regardless of size or experience, to become more effective and adept at online marketing and social media marketing. Every day, I have phone calls with affiliate marketers, publishers, and bloggers of all types, about how they can improve their websites, drive more traffic in general, and better monetize their online traffic and audiences. I do this free of charge to the affiliates and web publishers in the affiliate programs we manage. This is one of the major differentiating factor between our agency and other agencies in the space. Each affiliate is being personally mentored and coached by Evan Weber himself, someone with more than 20 years of digital advertising, website building, HTML, and conversion optimization experience. Usually, by the time the phone call is over, they are expressing their profound gratitude for my time and imparted knowledge to them. Let's just say I couldn't be more happy to help."
Experience Advertising also provides affiliate recruiting campaigns for their clients to grow the company's affiliate channel. Their affiliate outreach campaigns are often targeting 1000's of prospective affiliates and web publishers in niches relevant to their client's websites. Weber continued, "Affiliate marketing is a volume game. You need to recruit 1000's of targeted affiliates and web publishers, in order to have a large, productive affiliate program, which only happens over time by implementing a tremendous amount of affiliate outreach. This is in addition to maximizing the recruiting potential that the affiliate networks have to offer, which is entire separate yet vital as well. In my opinion, replying on what the affiliate networks have to offer often times isn't enough when it comes to bringing in relevant affiliates and web publishers. So, we have to maximize both in-network recruiting, as well as website contacting and prospecting to truly maximize the relevant publishers in the program."
About Experience Advertising, Inc.:
Experience Advertising was founded in 2007 to help companies grow and manage their affiliate marketing channel on affiliate networks like CJ, Linkshare, Shareasale, and in-house programs. They transformed into a full-service digital marketing agency over the years to help e-commerce companies manage all of their online advertising platforms more effectively.
Weber continued, "I decided to make the transition because our clients needed additional digital agency services that we are able to deliver more effectively than they can handle internally or through other agencies. I utilize my e-commerce background and my experience working with more than 200 e-commerce merchants, into managing effective, ROI-focused online marketing and social media campaigns for our clients. We can handle their entire digital marketing department if need be and are prepared to do so."
Weber stated that he is able to implement several website-based strategies to boost the overall conversion rate of their client's websites, so all of their traffic will convert at a better rate, which has a tremendously positive impact on their affiliate programs. Weber stated, "When the advertiser's website converts traffic at a higher rate their affiliates can really prosper and grow like they should, gaining what's known as "traction." Few agencies or advertisers themselves place enough emphasis on boosting their website's conversion rate and therefore aren't able to grow their affiliate marketing channel like they would like to. When you have a well converting website, combined with motivating promotions and deals sent out through engaging affiliate messaging, your affiliates will produce more sales and therefore put more effort into promoting the company, which increases traffic and sales in the affiliate program overall. Only by implementing this type of approach, consistently over time, can you eventually maximize the potential of your affiliate marketing channel. This is the approach that we are committed to implementing to varying degrees and that leads to successful affiliate program management for the advertisers we represent."
Experience Advertising, Inc. offers the following affiliate program management services:

Intensive Affiliate Program Management
Affiliate Recruiting and Blogger/Influencer Outreach
Affiliate Coaching and Training
Affiliate Program Analysis and Auditing
Affiliate Program Growth and ROI Improvement
Outsourced Affiliate Program Management (OPM)
Affiliate Network Management on the Major Affiliate Networks
Affiliate Marketing Strategy and Execution
Affiliate Education and How-to Guides
Affiliate Program Consulting for In-house Staff
Experience Advertising has an ala carte Affiliate Recruiting Service that has become very popular with clients according to Weber. He stated, "We use a multi-faceted affiliate recruiting approach to grow the affiliate programs we manage for clients. There are a few distinct strategies that allow our agency to recruit new, targeted affiliates at a faster rate than any other affiliate agency is possibly able to. Nor are advertisers able to duplicate this type of approach themselves. So bascially you can only utilize this affiliate recruiting approach through our agency, Experience Advertising, Inc. We are able to identify, through a proprietary tool we developed, 1000's of relevant affiliate marketers and web publishers to our clients' niche or industry, and then send them personalized prospecting/invitation emails to join our client's affiliate program. We also use the recruiting tools provided to our agency through the major affiliate networks to send 1000's of targeted "offers" to prospective affiliates for our clients, followed up by personalized emails asking them to accept the offer they have been sent. These two affiliate recruitment strategies allow our agency to add thousands of targeted, relevant affiliates and web publishers to our clients' affiliate programs. Over time, we are able to typically grow large, productive affiliate programs for our clients with 1000's of active affiliates participating in marketing and promoting the the company online through various means that affiliates use. This type of affiliate recruiting strategy, combined with the superb affiliate management and messaging we send, leads to a robust, highly productive affiliate marketing channel for our clients, that no other agency, network, or direct advertiser are able to emulate or duplicate. You literally can only achieve these levels of affiliate program growth by using Experience Advertising as your affiliate agency. It's something I have worked hard at perfecting over the years and these affiliate management processes are absolutely the best possible you can use with your affiliate program to grow it over time," stated Evan Weber.
Experience Advertising is an award-winning Affiliate Program Management Agency OPM with 10's of 1,000's of satisfied affiliate marketers under their direct management. If you are looking for an outsourced affiliate program management agency (OPM) or a digital marketing agency to handle your other e-commerce marketing channels, contact Experience Advertising today for a complimentary site evaluation and customized proposal.