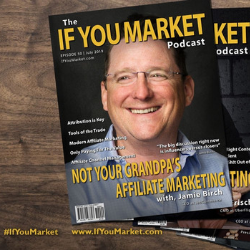 Anywhere there is money, you're going to find fraudsters and scammers. That doesn't mean it isn't worth it to engage accountable professionals to manage affiliate accounts"
LOS ANGELES (PRWEB) September 03, 2019
Affiliate marketing is often associated with fraud and scams; minds wander to thoughts of the poor business man, fooled by promises of "hits, "clicks" and "traffic." However, new affiliate systems have eliminated most of the fraud that existed in early affiliate models. There has been a 10.1 percent increase in affiliate marketing spending in the United States each year, meaning that by 2020, that number will reach $6.8 billion.[1] "Anywhere there is money, you're going to find fraudsters and scammers. That doesn't mean it isn't worth it to engage accountable professionals to manage affiliate accounts," said Jamie Birch, CEO of JebCommerce on the latest episode of the B2B If You Market Podcast. "Because the truth is, when you incorporate precise tracking into the model, it really does have the potential to transform small and large businesses."
Birch explained the benefits and potential red flags of rolling out an affiliate marketing campaign in episode 50 of the If You Market podcast, "Not Your Grandpa's Affiliate Marketing," hosted by MountainTop Data CEO Sky Cassidy and JOTO PR CEO Karla Jo Helms.
Contrary to popular opinion—affiliate marketing does prove useful in directing B2B prospects close on a sale. It can mirror B2C affiliate marketing—which in 2018, over $2.7 trillion worth of retail products were sold online and affiliate programs generate 15–30 percent of all sales.[2] "When affiliate marketers truly examine what the customer touches from start to finish, the potential for acquisitions of valuable customers can be immense," said Birch.
Affiliate marketing can come in many forms and the concept is simple—when people click on unique URLs, they are directed to the designated site and a commission is earned by the affiliate.[3] Think Google AdWords and Pay-Per-Click. More sophisticated versions of affiliate marketing platforms, however, are on the rise. For a large company, affiliate marketing can effectively provide additional revenue streams and complement already vibrant SEO and SEM campaigns. For a small company, it can boost a nonexistent advertising presence and allow them to engage in a digital channel, explained Birch.
"The key is to really hone in on the customer's needs. Analyze data that pinpoints their exact interests—where they truly are spending their time," said Birch. "When there is a push to make sure all these paths are integrated—that's where the affiliates come in."
Birch's 5 Steps to the Development of Effective Affiliate Marketing
1. Ask: "What are you really trying to achieve with affiliate marketing?"
2. Find out where the customer is going, engaging and truly interacting.
3. From there, identify the correct channels that will be useful in targeting the audience.
4. Ask again: "Are your goals aligned with what the channel(s) can do?"
5. Ultimately, evaluate what a profitable customer acquisition looks like for the company.
"When people think of affiliate marketing, they may think of old methods, and more often, the scandals," said Cassidy. "What many don't understand is that the industry is constantly revolutionizing and improving itself. It's up to companies to complete responsible research and be accountable for the marketing methods they are employing. Pay attention to where you are spending money." Helms agreed, explaining that a negative perception shouldn't always ward off something potentially profitable.
To listen to Birch elaborate on the frauds and scandals of the past, the great influencers versus closers debate, and the key practices to always uphold in an affiliate marketing campaign, visit https://ifyoumarkettheywillcome.com/2019/07/16/50-affiliate-marketing-is-real-with-jamie-birch/?PRS
The If You Market podcast is a 45-minute conversation about B2B marketing—new trends, best practices and pitfalls to avoid. Each episode features a conversation with one expert guest discussing topics like: content marketing, account-based marketing, social media, marketing automation, PR, etc.
The podcast airs on iTunes, Stitcher, Google Play and TuneIn Radio.
About Jamie Birch
Jamie is the owner and principal of JEBCommerce. His extensive Internet marketing experience includes all facets of online marketing: email, paid search campaigns, customer retention programs, and much more. This wide range of disciplines has enabled Jamie to excel as a business leader and JEBCommerce to realize a great level of success for its clients.
Jamie cut his "affiliate marketing teeth" managing affiliate programs for many well-known companies before spending several years at Coldwater Creek, a top five nationwide women's clothing retailer. While at Coldwater Creek, Jamie established and managed affiliate campaigns, email campaigns, and SEO campaigns – an opportunity that allowed him to develop many of the proven processes JEBCommerce successfully employs today.
About the If You Market Podcast
Meet If You Market podcast host, Sky Cassidy—an accomplished B2B marketer. And his co-host, disruptive PR evangelist Karla Jo Helms. Together they talk with industry experts to analyze B2B marketing tactics in a cocktail hour atmosphere.
Sky Cassidy is also the CEO of MountainTop Data. MountainTop Data, based in Los Angeles, CA, provides data and data services for B2B marketing. Karla Jo Helms is the CEO and Anti-PR Strategist of PR agency, JOTO PR DisruptorsTM, based in Tampa, FL. Visit them via http://ifyoumarkettheywillcome.com/category/if-you-market-podcast/?PRS
1. Enfroy, Adam. "Affiliate Marketing in 2019: What It Is and How You Can Get Started," Big Commerce
2. Carrell, Perrin. "The 72 Best Affiliate Programs & Networks For Bloggers In 2019," Authority Hacker; June 13, 2019.
3. Birch, Jamie. "Not Your Grandpa's Affiliate Marketing, with Jamie Birch," If You Market Podcast; July 16, 2019.