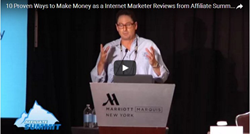 Fort Lauderdale, FL (PRWEB) June 27, 2017
Affiliate Marketing Expert Evan Weber, CEO and Founder of Affiliate Marketing Agency Experience Advertising, Inc., has released his free affiliate marketing course for affiliate marketers of all types. Evan Weber has been running affiliate programs since 2002 when he was the Marketing Director of an ecommerce startup called Dentalplans.com. After leaving that company in 2007, Weber launched his affiliate management agency Experience Advertising in 2007 to address the need that companies had with regards to effectively managing and growing their affiliate programs. Experience Advertising, Inc., over the past 10 years, has established themselves as the premier affiliate program management agency in the U.S., winning the top ranked affiliate marketing company for the last 7 years running by TopSEO's rankings of best affiliate companies.
Weber's new online course called "Affiliate Marketing 101 and Beyond" was put together specifically to be a resources and how-to guide for affiliate marketers looking to enhance their online marketing skills, in order to be more effective affiliate marketers. Weber stated about the course, "I wanted to put together a free online marketing course specifically for affiliate marketers that illuminated a lot of the most important strategies and techniques that will make them ultimately more effective at what they do. There was a gaping void in the industry for this type of course, so I decided to solve that problem by authoring this course and making it totally free. This is the type of course that I wish I had 20 years ago when I was starting out my career in the Internet marketing industry. I have already had some amazing feedback from actual affiliate marketers about how much they like the course, so I couldn't be happier with the way it's being received thus far.
The Affiliate Marketing Course covers a set of articles and videos with the following titles:

10 Proven Ways to Make Money as a Internet Marketer from Affiliate Summit East
11 Strategies Affiliate Marketers Can Use to Earn Revenue in the Summer Season
14 Effective Ways to Earn Money Online Through Blogging, Affiliate Marketing, and Social Networking
2 Amazing Facebook Page Management Features You MUST Use Immediately
11 Effective SEO Strategies to Achieve Higher Organic Rankings and Free Website Traffic
10 Ways to Work and Be Productive When All You Have is Your Phone
Video Webinar with Kate Volman and Evan Weber: Online Marketing Overview
58 Quick Tips for Affiliate Marketers, to Increase Traffic and Commissions
10 Careers, Strategies, and Processes to Make Money as an Internet Marketer
10 Different Internet Marketing Careers, Companies, Job Titles, and Professions that Will Provide a Great Professional Livelihood
10 Affiliate Marketer Preparation Tips for Capitalizing on Black Friday and Cyber Monday
Blueprint for Building Niche Websites and Generating Traffic, Followers, Fans, and Revenue
10 Affiliate Marketing Tips to Maximize the Holiday Shopping Season
10 Ways to Ramp Up Your Social Networking Activities
Weber concluded regarding the course, "Whether you are a total newbie or an experienced super-affiliate, this course will be a huge learning experience for you. If you want to learn how to truly leverage the Internet to generate money this course is for you. If you want to know all the various ways to make money online as a referrer, this course is for you. Regardless of your experience level or skills sets, I absolutely guarantee this affiliate marketing course will impress you for it's thoroughness and practicality. If you know me you know I'm not big on fluff, I'm big on substance and implementable strategies."
To sign up for the affiliate marketing course visit http://www.DigitalMarketingU.net and register yourself. If you are interested in growing a large, productive affiliate program for your company, visit Experience Advertising and place an inquiry. If you are interested in hiring Evan Weber as a digital marketing consultant you can contact him through his LinkedIn profile or his agency's website.