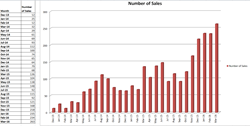 We usually require our clients to have a budget allocated towards a pro-active affiliate recruiting strategy, so expectations are met in a timely fashion.
Fort Lauderdale, FL (PRWEB) August 25, 2016
Experience Advertising, Inc., a leading digital advertising and affiliate network management agency, has released a new client case study featuring how they scaled up traffic, sales, and revenue for one of their affiliate programs under management over a 3+ year time frame. This affiliate channel growth case study shows how much the affiliate program grew on a monthly basis in revenue, sales, and overall number of affiliates in the program. Evan Weber, CEO of Experience Advertising, Inc. stated about the affiliate program case study, "It's exciting that this affiliate program has shown such picture-perfect and dramatic sales growth over the past 3 or so years, with virtually no coupon affiliates contributing sales in their affiliate program, which is very difficult to accomplish. Most of the producing affiliates in this program have been relevant affiliates, review affiliates, and other content affiliates."
Experience Advertising, Inc. has been in the affiliate program management business since 2007, managing affiliate programs for companies that hire their agency to grow and manage the entire affiliate channel for them. Mr. Weber continued, "Every affiliate program takes on a life of it's own and a growth trajectory based on several factors such as: the size of the niche, the advertiser's conversion rate, how targeted the affiliate traffic is, whether there are regular promotions being utilized, and how effective the creative designs/banner ads are. Usually, if the advertiser is willing to invest in growing their affiliate channel from day 1, a budget can be allocated to ramping up the affiliate recruiting process, therefore the whole program grows much faster. A lot of times, if the merchant isn't willing to invest in growing their affiliate base, it will only grow so fast, based on factors not always under our control. We usually require our clients to have a budget allocated towards a pro-active affiliate recruiting strategy, so expectations are met in a timely fashion."
This particular affiliate program case study is a good example of how long it often takes to build up enough affiliates to actually increase sales in a significant fashion. This affiliate program actually grew the old-fashioned way, through a tremendous amount of affiliate prospecting and outreach. Over time, as more affiliates join the affiliate program, a percentage of those will "become active" in the program, i.e. participate by promoting or marketing the company in some manner. As more of the affiliates get active within the program, a percentage of them will send enough traffic to produces sales or conversions. The ideal scenario is to have a large percentage of your total affiliates producing traffic and sales for the advertiser. Weber continued, "We fully expect this affiliate program to keep growing as long as there are happy affiliates earning great commissions. We are continuing our affiliate recruiting efforts on behalf of this client, so there is no reason to think this affiliate program will slow down its growth any time soon. Of course, it will ebb and flow with the company's seasonality, but in general we expect strong year over year growth for the next 5 to 8 years."
If the goal is to grow or better manage an existing affiliate program, or to launch a brand-new affiliate program, contacting Experience Advertising is a good idea. Experience Advertising can provide a complimentary affiliate program audit and analysis to reveal whether:
1) The affiliate program has potential to grow
2) The affiliate program is being managed properly
3) Effective affiliate messaging/newsletters are being sent out to affiliates
4) There is effective building of revenue share partners in general happening
5) How big exactly is the niche within the affiliate marketing industry and
6) What is the immediate upside for the affiliate channel and how long will it will take to reach its potential.
These are the critical questions that determine how big an affiliate program can get. Using an experienced, well-respected affiliate agency like Experience Advertising will provide the best chance to grow the company's affiliate channel sales as quickly as possible. Without an affiliate agency like Experience Advertising, the affiliate program may not be able to recruit enough affiliates quickly enough or convert traffic well enough to "gain traction" and may not succeed or could cost the company money and not become a profitable channel, which is why companies seek out Experience Advertising, due to their reputation for effective and competent affiliate channel management. Experience Advertising is also a sought after digital marketing agency for channels such as:

Google Adwords Management
Bing Ads Management
Facebook Ads Management
Content writing/blogging
Visitor Retargeting campaigns
Conversion Rate Optimization
Affiliate Marketing
Social Media Management
Shopping Channel Management
and other digital advertising management services.
Contact Experience Advertising for any of the following affiliate agency services: affiliate recruiting, affiliate management, affiliate prospecting, affiliate newsletter sending, affiliate support, web publisher prospecting, affiliate program auditing, affiliate program analysis, or affiliate program consulting.