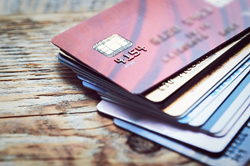 "Affinity relationships is a powerful and very innovative tool," says Eaton-Cardone, "and it will continue to grow in importance in the online economy."
TAMPA, Fla. (PRWEB) February 03, 2020
Affinity relationships with major card issuers and brands is on the rise for 2020. In the "Age of The Credit Card Bonus," there is an endless and growing list of card issuers with a long list of cards creating a highly competitive environment to attract customers.(1) Special introductory bonuses with their plastic has become not only the norm but has proliferated into a legal, but industry-detested byproduct called "credit card churning," referring to the practice of consumers repeatedly opening and closing a credit card to earn its signup bonus.(2)(3) Monica Eaton-Cardone, an entrepreneur and global fintech executive specializing in risk management and fraud prevention, says some cardholders may churn 10 or even more cards in one year, due to brand affiliations' offerings proving extremely popular with consumers.
Some issuers object to credit card churn, and a few are trying to take action against it. Chase, for example, has adopted the "5/24 rule," in which it refuses to open a new card account for anyone who has opened five or more personal credit cards (with any bank or issuer) in the previous 24 months.(4) American Express has issued a notice suggesting that abusers may lose out on future sign-up bonuses.(4) Most issuers, however, seem to be taking the churn phenomenon in stride. "The fact that this is going on," says Eaton-Cardone, "simply demonstrates that affinity relationships work, and that affiliations between brands and card issuers are extremely effective."
So effective, in fact, that it has been suggested—only slightly tongue in cheek—that brands struggling with public and market perception issues might consider launching affinity credit card programs of their own. Some possibilities that have been mentioned include Boeing, the Democratic Party, Uber, Kroger, McDonalds, Facebook, the Olympics, retailers testing new private brands, and all car manufacturers.(5) Eaton-Cardone says it's not that outlandish and predicts it will happen starting in 2020.
"Affinity relationships is a powerful and very innovative tool," says Eaton-Cardone, "and it will continue to grow in importance in the online economy. Just as subscription box services continue to grow, major card issuers and brands will come together to maximize synergistic results and promote loyalty through consumer rewards."
While 2019 was a boon for the credit cards industry, 2020 is set to be even bigger.

Why the rise in popularity in loyalty rewards and affinity relationships for credit cards?
One reason for this popularity, notes Eaton-Cardone, is that card issuers offer quite generous sign-up bonuses. An issuer's affinity with an airline, for example, might offer new cardholders 50,000 travel miles if they spend $4,000 within three months of opening the card account—12.5 miles per dollar, as opposed to the more usual 2-5 miles per dollar. This has led to a practice called credit card churning, in which consumers repeatedly sign up for a new credit card, spend enough to earn the opening bonus rewards, and then stop using the card.(5)
Who pays for rewards on credit cards?
Businesses that accept credit cards have to pay a bank fee every time a customer pays with a card. They typically raise prices for all customers (including cash payers) to pass these fees onto consumers. This is lop-sided though, as credit cards are far more common among people who live in high-income households.(6)
Credit card affinity programs, what are those?
In simple terms, a credit card affinity program is an avenue way to earn money by introducing perspective clients to credit cards. This is done by permitting advertising on your personal website, or even devoting an entire website to the marketing of those credit cards. Credit card affiliation programs are one of the more lucrative affinity programs that exist. (7)
Eaton-Cardone says that with the rise of affinity relationships and loyalty rewards, there will be more businesses starting credit card affinity programs—which will increase the potentially for fraud and stealth of loyalty rewards, which is already becoming prolific.
"Loyalty Rewards and credit card points is such a windfall, one site built an entire business around it," she says, referring to The Points Guy, an American travel website and blog that produces news and stories on travel detailing various means of accumulating and using airline points and miles.
The Future of Card Rewards
1. "For one, there will no end in sight of the [credit card] industry ridding itself of affinity relationships and loyalty reward programs—it will also continue to increase affinity marketing programs but will also boost the fraud connected with it.
2. "There will be more and more restrictions as issuers continue to compete against each other for long-term, loyal cardholders—consumers will need read the fine print when signing up for credit cards with these opportunities."
3. "The travel and hospitality industry will experience a burst of "super-cobranded" cards with retail, restaurant, attraction and event brands joining together to exploit a targeted set of consumers who travel for work, family vacations or even adventure/extreme vacations.
Monica Eaton-Cardone frequently discusses fraud prevention, FinTech and security best practices at industry conferences and events around the globe.
About Monica Eaton-Cardone
An acclaimed entrepreneur, speaker and author, Monica Eaton-Cardone is widely recognized as a thought leader in the FinTech industry and a champion of women in technology. She established her entrepreneurial credentials upon selling her first business at the age of 19. When a subsequent eCommerce venture was plagued by revenue-leeching chargebacks and fraud, Eaton-Cardone rose to the challenge by developing a robust solution that combined human insight and Agile technology. Today, her innovations are used by thousands of companies worldwide, cementing her reputation as one of the payment industry's foremost experts in risk management, chargeback mitigation and fraud prevention. As CIO of Global Risk Technologies and COO of Chargebacks911, Eaton-Cardone leverages her global platform to educate merchants on best practices in fraud prevention and to spotlight the competitive and economic advantages women can bring to the technology workforce. Her nonprofit organization, Get Paid for Grades, invests in students to inspire a new generation of innovators. Get to know Eaton-Cardone at http://monicaec.com
1. Frankel, Matt. "Best Rewards Credit Cards for January 2020." The Ascent, 14 Jan. 2020, fool.com/the-ascent/credit-cards/best-rewards-credit-cards/.
2. Calonia, Jennifer. "Am I Cut Out for Credit Card Churning?" U.S. News & World Report, U.S. News & World Report, 28 June 2019, creditcards.usnews.com/articles/what-is-credit-card-churning.
3. Volkman, Eric. "Is Credit Card Churning Worth It?" The Ascent, The Ascent, 30 July 2019, fool.com/the-ascent/credit-cards/articles/is-credit-card-churning-worth-it/.
4. Adams, Riley, "Credit Card Churning and How to Exploit Special Offers, Young and the Invested, 2019.
5. Calonia, Jennifer, "What Is Credit Card Churning?", U.S. News & World Report, June 28, 2019.
6. Yohn, Denise Lee, "Brands to Watch in 2020," Forbes, December 3, 2019.
7. "Amex Throws Warning to Customers Abusing Credit Card Sign Up Bonuses," God Save the Points, June 7, 2019.
8. Goldstein, Jacob. "Who Pays For Credit Card Rewards?" NPR, NPR, 27 July 2010, npr.org/sections/money/2010/07/27/128797815/credit-card-rewards-the-poor-pay-the-rich-benefit.
9. "Wahm Articles." Wahm, wahm.com/articles/how-a-credit-card-affiliate-program-works.html.