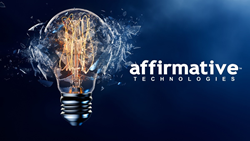 CLEARWATER, Fla. (PRWEB) August 19, 2020
Affirmative Technologies, the leading provider of electronic payment processing and risk management solutions, announces 100% year-over-year growth in ACH volume. During the last 12 months, over $250 billion in payments and electronic transfers have been processed with Affirmative's platform.
"This tremendous growth is the result of both new client signings and volume expansion among our existing clients," explained George Bassous, CEO of Affirmative Technologies. "Our financial institution and payment processing clients trust us to manage their mission-critical infrastructure. We are humbled by their trust and confidence in us."
About Affirmative Technologies
Affirmative Technologies, founded in 1998, provides SaaS-based electronic payment risk management, processing, and compliance solutions to financial institutions and third-party payment processors. Reduce Costs. Stay Compliant. Avoid Losses. Grow Revenue.
http://www.affirmativeusa.com
http://www.linkedin.com/company/affirmativeusa