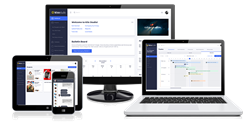 Now that we are on Azure, studios and producers can feel even more confident about running their productions on Klio Studio, since their data will be even more secure with the platform now being housed in Microsoft's Azure cloud
LOS ANGELES (PRWEB) November 05, 2020
Former US Navy officer, international talk show host, and film producer Adrienne Lunson is excited to announce that her latest production, not a film or TV show, but Klio Studio, an affordable cloud based production management solution, purpose built for film, television, and commercial productions, is now available the Microsoft Azure Marketplace and on AppSource, and the company is a Microsoft partner.
Lunson notes, "while we've been building Klio Studio since 2017, when the Coronavirus appeared, we launched as soon as we could to help producers manage their newly distributed teams online and effectively. Now that we are on Azure, studios and producers can feel even more confident about running their productions on Klio Studio, since their data will be even more secure with the platform now being housed in Microsoft's Azure cloud."
The Klio Studio system keeps producers and their collaborators on track throughout the production process starting with development, through fundraising, pre-production, production, post-production and even release. It turns the creative chaos of filmmaking into orchestrated art.
Klio Studio's toolset unifies all aspects of production, including tasks, schedules, chat, and file sharing. Lunson comments, "Because Klio Studio is Azure cloud based, staff can work remotely on multiple productions at once, potentially getting millions of people back to work from the Coronavirus crisis sooner and everyone's favorite shows back on the air."
Klio Studio is also helping to increase set safety in these challenging times, Lunson adds, "With Azure, our mobile tools help keep cast and crew safer on set, with digital check ins, digitally choosing meals for catering, and electronic signatures. Additionally, our medical advisory board is aiding us to create other practical protocols to keep set life safe."
Lunson notes, "Klio Studio is for all producers. We created a powerful project management tool. It works great for commercials, online content, or multimillion-dollar movies." Starting at $11.99/month, Klio Studio opens up an affordable toolbox for all creatives.
Through this incredible year Klio Studio's smart virtual tools are helping to get four million filmed entertainment workers back at it. Check out KlioStudio.com to sign up for a free trial. The show must go on!
About Klio Studio:
In Greek lore, Cleo was the muse of record keeping. In modern Hollywood, Klio Studio keeps track of all the tedious details, financials, paperwork, and tasks to free producers to concentrate on important creative decisions. Now available in Microsoft Azure Marketplace, Klio Studio is a safe, secure platform for producers to manage their entire production on from development through release.
About Microsoft Azure:
The Azure cloud platform is more than 200 products and cloud services designed to help you bring new solutions to life—to solve today's challenges and create the future. Build, run, and manage applications across multiple clouds, on-premises, and at the edge, with the tools and frameworks of your choice.