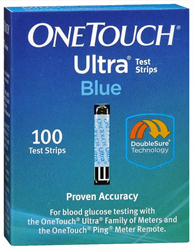 ELMHURST, N.Y. (PRWEB) September 07, 2018
The worst thing that a person can go through is not being able to afford proper treatment for a medical condition. And one of the most troubling condition is unequivocally diabetes. If sugar levels are not properly monitored sever medical issues can arise up to and including death. But the saddening truth is that the devices used to test and monitor sugar levels are very expensive and out of reach of most consumers. This is the primary reason that Affordable OTC, a renowned name in selling diabetes testing products, has launched a website to provide diabetic supplies at prices anyone can afford.
Affordable OTC only sells products that are from the best-known brands and that have been proven to provide the most accurate sugar readings. They have an extensive range of glucose test strips, glucose meters, lancets and other items. All of these products are available at a highly discounted price that can save consumers up to 90 percent. And the best thing is that they are providing free shipping on orders that are over $89.
Affordable OTCs goal is to make the high expense of glucose monitoring available to everyone that needs it. This is their main purpose, and they are going above and beyond to achieve it. Their website contains a wide variety of affordable discount diabetic supplies and has a very advanced security in the checkout process so the personal details of the customers always remain safe.
They stock all the supplies listed on their website in their facility. They know how important these supplies are to consumers, getting the testing equipment to them quickly is of paramount importance.
To know more about the company and/or to purchase their products, visit their website via https://affordableotc.com.
About Company:
Affordable OTC provides diabetic products at a discount price. Their goal is to make diabetes care affordable to everyone. They provide savings over 70% off the retail price of the items. They understand how expensive managing diabetes can be for self-paying consumers. They want to alleviate some of that expense that by making the supplies available to consumers at a price they can afford.
Media Contact:
Company Name: Affordable OTC
Contact Person: Adam
Email: Adam(at)affordableotc(dot)com
Contact No: 844-502-2744
Website: https://affordableotc.com