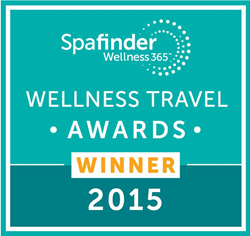 All-inclusive prices range from $229-$269 per night at this award-winning wellness retreat and destination spa.
Killington, Vermont (PRWEB) November 10, 2015
Spafinder Wellness 365TM recently announced winners of the 2015 Wellness Travel Awards at a press event held at the World Travel Market in London. New Life Hiking Spa in Mendon/Killington, Vermont won the Award for Best for Affordability & Budget Spa.
The Wellness Travel Awards recognize the demand for healthier travel options and honor hotels, resorts, destination spas and retreats worldwide offering the best wellness vacations and experiences. Winners were selected by a panel of 33 travel and wellness industry editors and experts, who nominated 504 properties for consideration before narrowing the field to finalists in 53 countries and regions, and by consumers who voted for their favorite locations across various categories.
Awards were presented by Mia Kyricos, chief brand officer of Spafinder Wellness, Inc. "We are honored to recognize the best in wellness travel from all corners of the globe," said Kyricos. "Our objective is to help travelers identify options for their ideal wellness vacations, while also recognizing the excellence and innovation that exists in this rapidly growing sector of the travel industry."
View all Category winners at http://www.wellnesstravelawards.com.
About Spafinder Wellness, Inc.
Spafinder Wellness, Inc. is the world's largest marketing, gifting, incentives and rewards company for the wellness industry and the leading consumer resource for feeling good and living well all year round. With now over 26,000 wellness partners worldwide, including wellness travel destinations, fitness, yoga and Pilates studios, spas and salons, plus access to 4,500 massage therapists through Zeel's on-demand massage services, millions of people find the resources and inspiration to keep well every day via the Spafinder Wellness 365™ brand. Learn more at http://www.spafinder.com.
About New Life Hiking Spa, Inc.
Founded in 1978, New Life Hiking Spa has been a pioneer in the destination spa industry and has become nationally recognized as an affordable fitness and wellness destination. New Life is open each year spring through fall, when hiking is at its peak in the Green Mountains of Vermont. The 2016 season will run from May 12th – October 3rd.
Known for its exhilarating hiking program, delicious healthy meals and a comfortable atmosphere, New Life Hiking Spa offers the chance to experience the peace of the outdoors in a down-to-earth, country inn environment. It is ideally suited for small groups, couples or individuals trying to improve their wellness level and de-stress. New Life offers a variety of vacation options from 2-4 night mini-getaways to 11 night or longer weight loss and wellness retreats.
All-inclusive prices range from $229 - $269 per night. Prices include a room, three healthy meals per day, fresh fruit and vegetables as snacks, one guided hike every day (three levels offered per day to accommodate everyone's fitness needs), all fitness and yoga classes, one massage for every three night stay and evening lectures and cooking demos.
More information on New Life's programming can be found online at http://www.NewLifeHikingSpa.com