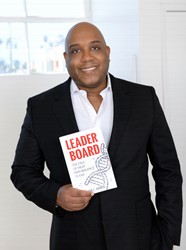 'Leader Board' will help any leader, manager, recruiter, people manager, or HR pro revitalize their approach to leading and hiring. - US Daily
CHARLOTTE, N.C. (PRWEB) October 13, 2020
Based on 20+ years of global pharmaceutical executive experience, African-American business and leadership thought-leader, Former GM (Allergan and GSK) and Intent Consulting Founder Omar L. Harris uncovers 5 timely success principles in his Bestseller, "Leader Board: The DNA of High Performance Teams". In this timely book, Harris explains why diversity, inclusion and great leaders are so important today.
As one of the few African-American thought leaders with first-hand experience as General Manager for Allergan (Brazil) and GSK (Indonesia) at the enterprise level in healthcare, Harris has worked in the U.S., Middle East, Asia, and Latin-America. After working two internships at Pfizer during Florida A&M University's MBA program, Harris earned a six-figure income when he graduated at age 25 with Schering-Plough (pharmaceutical co. that merged with Merck in 2009).
Reflecting on the lack of diversity in corporate America's leaders, Harris points out, "There are only 3 Black CEOs in the Fortune 500 (Harvard Business Review), and only 8% of managers are African-American (U.S. Department of Labor Statistics, 2020). The news that the current U.S. Labor Department is scrutinizing companies like Microsoft and Wells Fargo over their public commitments to diversity is very concerning (PBS NewsHour). Many American companies have promised to hire more Black employees in leadership roles, and we cannot afford to go backwards as a nation."
Based on Harris' personal leadership insights, US Daily says "'Leader Board' will help any leader, manager, recruiter, people manager, or HR pro revitalize their approach to leading and hiring."
This inspiring and educational book includes practical advice, along with a fictional story about a pharmaceutical industry leader named Samuel "Coach" Lombardi, who leverages a lifetime of hard-won wisdom to deliver a stellar product launch. Lombardi's "lessons learned" provide helpful insights, charts and tools to accelerate the DNA of their teams.
And to help leaders "level-up", Harris defines 20 Team Performance Acceleration Principles (TPAPs) in the Discussion section with "actionable wisdom." As an expansion of American Psychologist Bruce Tuckman's four stages of team development (Forming, Storming, Norming and Performing), Harris' TPAPs define 20 Team Performance Acceleration Principles that overlap each phase.
Readers will walk away with Harris' 5 Leadership Success Principles and more:
1. Leaders are the differentiator between bad, good and great teams.
2. Leaders must focus on diversity, inclusion, and high performance behaviors (work ethic, heart, optimism, and maturity) instead of educational pedigree or past experience.
3. Leaders must define a purpose that is an extension of the people they are leading and serving – not just the pursuit of sales and profits.
4. Leaders should eliminate the boss "top-down hierarchy" way of working, and instead adopt servant leadership principles based on trust.
5. Leaders should recognize that if they hire well, and define a clear purpose, they no longer have to be the best at everything. Instead, leaders should empower their people to maximize their unique strengths in their contributions to the team.
In "Leader Board", Harris also includes examples from team leader experts, including Steven R. Covey ("The 7 Habits of Highly Effective People"), Patrick Lencioni ("The Five Dysfunctions of a Team: A Leadership Fable" that demonstrates the importance of trust for team performance), Donald O Clifton (Clifton Strengths® Assessment), the Gallup organization (Strengths Finder 2.0) and more.
Readers can find "Leader Board: The DNA of High Performance Teams" on Amazon, Target, and Walmart.
AMAZON
Leader Board: The DNA of High Performance Teams (Leader Board Series) (2019)
https://www.amazon.com/dp/B07QMJSMV3/ref=sr_1_1?keywords=Leader+Board&qid=1555283815&s=digital-text&sr=1-1
The Servant Leader's Manifesto (April 2020)
https://www.amazon.com/gp/product/B086Z7HSBT/ref=dbs_a_def_rwt_bibl_vppi_i0
FACEBOOK - Omar L Harris
https://www.facebook.com/authorleadercoach
MEDIA CONTACT:
Liz Kelly, 310-987-7207
ABOUT: Omar L. Harris (Charlotte, NC, born in Pittsburgh, PA) is an Award-Winning Bestselling Author of 4 books, Intent Consulting Founder, and Former GM (Indonesia and Brazil) with 20+ year global pharmaceutical executive experience (Pfizer, GSK, Allergan and more). As a Gallup Certified Strengths Coach, Team Leadership Thought Leader, Motivational Speaker and Entrepreneur, Harris is passionate about leading teams, high-performance coaching and inspiring future leaders today and tomorrow to adopt the servant leader mindset and stop toxic leadership behaviors. Based on building high-performance organizations on four continents with corporate, startups, and entrepreneur endeavors, Harris' 4 books include "The Servant Leader's Manifesto" (2020), "Leader Board: The DNA of High Performance Teams" (2019), Co-Author of "From Authors to Entrepreneurs F.A.T.E.: The Personal Side of Indie Publishing" (2015) and "One Blood" fiction book (2011, pen name, Qwantu Amaru). His work has been featured on Black News Channel, Thrive Global, CEO World Magazine, South Charlotte Weekly, Fast Leader Show Podcast, Young Upstarts, The Rebel Road Podcast, Human Capital Innovations (HCI) Podcast and more. As fun facts, Omar speaks 5 languages, plays 7 instruments, lived and worked on 4 continents and started his first company at the age of 7. https://www.omarlharris.com/.