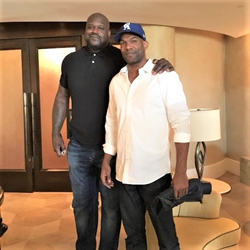 Red Cotton Denim is building a technology that creates a personalized, user-friendly online shopping experience for custom-fit jeans
EL PASO, Texas (PRWEB) July 21, 2020
Red Cotton Denim, an African-American owned clothing-tech company, is reshaping the clothing industry with a sustainable, custom-made jeans model, is now on Kickstarter.
Red Cotton Denim founder, Camillo Love, is looking to disrupt the fashion industry that has created a standard sizing system. Instead of mass producing, Red Cotton Denim is introducing jean customization technology that creates a personalized fit.
His path has taken him from serving in the US Navy to working in the LA Fashion Districts to making custom jeans for Shaquille O'Neal (photo) and now a jean factory in El Paso, TX.
Red Cotton Denim is currently offering ready made jeans along with custom fitting jeans to a select number of customers. With a successful Kickstarter, Red Cotton Denim plans to immediately develop the technology to offer custom jeans to everyone.
This will allow Red Cotton Denim to become the first company to create truly online customized jeans by recreating century-old tailoring and modernizing how jeans are designed.
"Red Cotton Denim is building a technology that creates a personalized, user-friendly online shopping experience for custom-fit jeans," said Love, founder of Red Cotton Denim. "The fashion industry mass produces clothing, using a standardized sizing system to provide an adequate fit for most people. This method results in not only poor-fitting clothing but tremendous waste and harm in the process."
Red Cotton Denim's tailored garments are crafted to fit every customer's unique body. Love understands custom fit and that all bodies are different, not only has he needed customized clothing with his 6'5" frame; but for others who are in need of high quality custom tailoring.
"I want to stay true to the process of hand-making jeans while expanding the capacity to craft more. Since its inception, every pair of Red Cotton Denim jeans has been hand sewn by me," said Love. "The brand prides itself on its unique ability to create relationships with customers enabling a collaborative design experience and guaranteeing satisfaction - knowing that each pair of Red Cotton Denim jeans are made for the individual customer to fit perfectly."
Red Cotton Denim also plans to hire more employees, working with El Paso based Ready One Industries, an organization that provides employment opportunities for individuals with significant disabilities in an environment that inspires and nurtures self-determination and success.
"This will help me reach not only my dream of custom-made jeans but also my heartfelt commitment to nurturing self-determination and success in individuals with disabilities," Love said.
By working directly with the customer online, Red Cotton Denim can eliminate 60% of the average retail mark up, giving the customer a handcrafted pair of jeans at an affordable price.
The Cone Mills 12-ounce fabric jeans are offered in indigo or black, straight leg or tapered cut with a true mid rise fit, zip fly and a four-pocket design inspired by the American classic cut.
For more information and to pre-order Red Cotton Denim jeans at early bird discounts, visit the crowdfunding page on Kickstarter or RedCottonDenim.com.
About Red Cotton Denim
Red Cotton Denim's founder, Camillo Love, worked with Ready One Industries for a year. He sought to learn their business, develop relationships, and ensure that they could produce his Red Cotton Denims jeans to the high-level quality and customization standards he expects.
Made to Order
Red Cotton Denim does not mass produce; every garment is made to order. We don't have stock or warehouses of unsold clothes. If a pair of jeans is not needed, it does not get made.
Seamless Online Experience
Red Cotton Denim will focus on ease-of-use with its online portal, making the measurement process effortless and state of the art. 3D animation and video morphing with instructions will stand out and allow for ideal customer flow.
Custom Fit
Every garment is custom fit. No two bodies are the same and neither are our jeans. Every detail is carefully designed to fit each individual's body.
Sustainability
Sustainability is about caring for our environment, our employees, and our community. Instead of seeing the pursuit of sustainability as a barrier in the clothing industry, we see it as an aspiration and an opportunity for changing the way clothing is made.
Responsible Production
Our production partner - Ready One Industries - was selected based on their commitment to equity for those with disabilities, their exceptional skill level, a strong focus on quality, and an uncompromising dedication to positive working environments. The traditional clothing industry, overproduces, has a history of unethical use of labor and causes extreme waste. Every garment produced by Red Cotton Denim is made to order - directly for our customers. No stock and unsold clothing end up in landfills.
Equity in the Workplace
Red Cotton Denim strongly believes in offering equal opportunity. Recognizing that every person has unique potential and abilities, they have partnered with Ready One Industries, where workers with disabilities can be successful and work easily and comfortably.