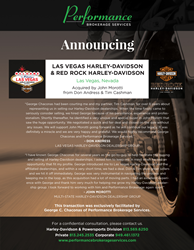 "Rarely do I have the privilege of representing such fine gentlemen and an iconic Harley-Davidson dealership group." - George C. Chaconas
IRVINE, Calif. (PRWEB) December 14, 2018
Performance Brokerage Services, a new car and Harley-Davidson dealership broker is pleased to announce the sale of Las Vegas Harley-Davidson and Red Rock Harley-Davidson in Las Vegas, Nevada, and Henderson Harley-Davidson in Henderson, Nevada from Don Andress and Tim Cashman to John Morotti. Also included in the sale is Zion Harley-Davidson, a Satellite Retail Location in Washington, Utah and five Alternate Retail Locations located around the Las Vegas area including hotels, casinos and the McCarran International Airport.
The Harley-Davidson Motor Company® first established a dealership in Southern Nevada in the 1940s. After multiple ownership changes, relocations and construction of new facilities, Mr. Don Andress acquired Las Vegas Harley-Davidson in 1995 from a long-time friend, Neil Nelson. In addition to being a life-long resident of Las Vegas, Don has been a life-long motorcycle enthusiast, having taken his first ride on his father's Harley-Davidson Flathead motorcycle at only one-and-a-half-years-old.
Tim Cashman, another Las Vegas native, joined Don in business in 1996 as part-owner. The Cashman family established the first automotive dealership in Nevada in 1910 and continued the legacy for three generations.
In 1998, Don and Tim built the world's largest Harley-Davidson dealership, totaling 79,000 square feet located on South Eastern Avenue. However, in 2014 they found a beautiful location on the famous Las Vegas Strip, where the dealership resides today. In 2000, Zion Harley-Davidson opened in Washington, Utah. It now operates out of a 20,000 square foot facility. Red Rock Harley-Davidson is known as the place to rock in a 104,000 sq. ft. facility. Following the sale of his dealership group, Don Andress commented, "We hired George Chaconas of Performance Brokerage Services because of his persistence, experience and professionalism. He identified a very unique and special buyer in John Morotti that saw the huge opportunity. We negotiated a quick and fair deal and closed on the sale without any issues. We will support John Morotti going forward as he will continue our legacy. It was definitely a miracle and we are very happy and grateful." William H. Stoddard, Jr. from Albright, Stoddard, Warnick & Albright based in Las Vegas, Nevada represented the sellers as legal counsel in this transaction.
John Morotti is also no stranger to the motorcycle business and the group of dealerships he acquired were a great strategic fit to compliment his existing portfolio. John is the owner of Mother Road Harley-Davidson and Route 66 Motorsports in Kingman, Arizona, Superstition Harley-Davidson in Apache Junction, Arizona and Tobacco Road Harley-Davidson in Raleigh, North Carolina. John had been looking for another dealership to acquire to expand his footprint throughout the Southwest. John shares, "I have known George Chaconas for several years as the go-to-guy to help facilitate the buying and selling of Harley-Davidson dealerships. I asked him to keep me in mind when he had an opportunity that fit my profile. George introduced me to Las Vegas Harley-Davidson and the affiliated dealerships, and within a very short time, we had a deal." Robert A. Bass from Bass Sox Mercer in Tallahassee, Florida represented the buyer as legal counsel in this transaction.
The dealerships will all remain at their current locations at 5191 South Las Vegas Boulevard and 2260 South Rainbow Boulevard in Las Vegas, Nevada, 1010 West Warm Springs Road in Henderson, Nevada and 2345 North Coral Canyon Boulevard in Washington, Utah.
George C. Chaconas, the exclusive agent for this transaction and the head of the National Harley-Davidson and Powersports Division for Performance Brokerage Services commented, "I had built a relationship with Don Andress and Tim Cashman for over 8 years, often meeting with them when I would visit Las Vegas and at the Harley-Davidson dealer shows. It was an honor to finally earn their business and assist them with selling their dealerships. Rarely do I have the privilege of representing such fine gentlemen and an iconic Harley-Davidson dealership group. I am very grateful for the opportunity to be of service. I look forward to seeing John Morotti continue the legacy that Don and Tim have built through so many years."
About Performance Brokerage Services
Performance Brokerage Services, an auto dealership broker, specializes in professional intermediary services to buyers and sellers of automotive, commercial truck, Harley-Davidson and Powersports dealerships.
The company offers a different approach to the automotive, commercial truck, Harley-Davidson and Powersports industries by providing complimentary dealership assessments, no upfront fees, no reimbursement of costs and is paid a success fee only. Performance Brokerage Services gets paid only after the client gets paid.
With over 25 years of experience, the company utilizes an extensive network of industry related accountants, attorneys, hundreds of registered buyers and enjoys longstanding relationships with most of the auto manufacturers and the Harley-Davidson Motor Company®. The intermediaries at Performance Brokerage Services have been involved in well over 600 transactions. Pledging loyal and unwavering representation, confidentiality is vigilantly protected during the selling process and after the transaction closes.
With corporate offices in Irvine, California, six regional offices in Utah, Florida, Texas, New Jersey, Alberta and Ontario, a dedicated Harley-Davidson and Powersports Division, and a dedicated Commercial Truck Division, Performance Brokerage Services provides its clients national exposure with local representation. For more information about the services offered by Performance Brokerage Services, visit https://performancebrokerageservices.com.