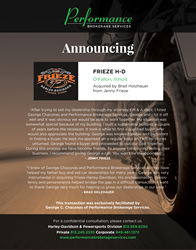 "For over 50 years, the Frieze family acted as role models for the Harley-Davidson dealer body." - George C. Chaconas
IRVINE, Calif. (PRWEB) September 07, 2018
Performance Brokerage Services, a new car and Harley-Davidson dealership broker is pleased to announce the sale of Frieze Harley-Davidson in O'Fallon, Illinois from Virginia (Jenny) Frieze to Brad Holzhauer.
Frieze Harley-Davidson was established in 1963 in East St. Louis by Russell Frieze. Russell had a passion for motorcycles and a love for Harley-Davidson. As the motorcycle industry continued to grow in the 60's, Russell turned his racing passion into his life dream by opening Frieze Harley-Davidson. Russell was loyal to the Harley-Davidson Motor Company, having only ever raced, sold and serviced Harley-Davidson motorcycles. In 1988, Frieze Harley-Davidson was the first dealership in the St. Louis Metro area to be remodeled under the Harley-Davidson Motor Company Designer Store Program.
In 2001, the Frieze operation expanded with the opening of a second location, an alternate retail outlet, in O'Fallon, Illinois. One year later, Russell passed away and left the Frieze family legacy in the hands of his wife, Jenny and their daughter, Etta.
In 2007, Jenny Frieze relocated the dealership to its current home in O'Fallon. Jenny had been working with the dealership for nearly 45 years, and became the General Manager in 1998, when Russell had stepped down from the position.
Their daughter, Etta, who joined the family business in 1984. commented, "Coming here to work is more than just a job to me, it is the continuing of the Frieze family heritage."
Jenny was a pioneer in building an eco-friendly dealership, becoming the first dealership to receive a gold rating under the Leadership in Energy and Environmental Design certification program operated by the U.S. Green Building Council and the only dealership to receive the Environmental Award from Harley-Davidson Motor Company.
After 55 years of ownership, the Frieze family decided it was time to sell their business and hired George C. Chaconas from Performance Brokerage Services to assist them with the sale. Following the sale, Jenny shared, "George was knowledgeable and persistent in finding a buyer. He kept me apprised on a regular basis and left no stones unturned. During this process we have become friends. To anyone considering selling their business, I recommend giving George a call. You won't be disappointed!"
Brad Holzhauer, the buyer, also owns and operates Big Saint Charles Motorsports and Saint Charles Harley-Davidson in Missouri. The acquisition of Frieze Harley-Davidson was a great strategic fit for him. Brad mentioned that the beauty and magnitude of Frieze Harley-Davidson's facility ultimately sold him on the deal. An entire inside wall of the dealership boasts a mural that depicts the first Frieze Harley-Davidson location with Russell Frieze standing out front with his Harley-Davidson motorcycle. Brad intends to maintain the mural paying homage to the 55-year-old legacy the Frieze family has built. Following the purchase, Brad commented, "George was very instrumental in acquiring Frieze Harley-Davidson. His professionalism, consistency and perseverance helped bridge the gap in a very difficult transaction. I want to thank George very much for helping us grow our Harley-Davidson dealerships in our area."
The dealership will operate under its new name, Green Mount Road Harley-Davidson and reside at the same location of 1560 North Green Mount Road in O'Fallon, Illinois.
George C. Chaconas, the exclusive agent for this transaction and the head of the National Harley-Davidson and Powersports Division for Performance Brokerage Services commented, "For over 50 years, the Frieze family were role models for the Harley-Davidson dealer body and their community. It was such an honor being involved in passing the torch of this family legacy. I wish Brad Holzhauer much success with this purchase and thank Jenny for the opportunity to earn her business and her friendship."
About Performance Brokerage Services
Performance Brokerage Services, an auto dealership broker, specializes in professional intermediary services to buyers and sellers of automotive, Harley-Davidson and Powersports dealerships.
The company offers a different approach to the automotive, Harley-Davidson and Powersports industries by providing complimentary dealership assessments, no upfront fees, no reimbursement of costs and is paid a success fee only. Performance Brokerage Services gets paid only after the client gets paid.
With over 25 years of experience, the company utilizes an extensive network of industry related accountants, attorneys, hundreds of registered buyers and enjoys longstanding relationships with most of the auto manufacturers and the Harley-Davidson Motor Company. The intermediaries at Performance Brokerage Services have been involved in well over 600 transactions. Pledging loyal and unwavering representation, confidentiality is vigilantly protected during the selling process and after the transaction closes.
With corporate offices in Irvine, California, six regional offices in Utah, Florida, Texas, New Jersey, Alberta and Ontario, and a dedicated Harley-Davidson and Powersports Division, Performance Brokerage Services provides its clients national exposure with local representation. For more information about the services offered by Performance Brokerage Services, visit https://performancebrokerageservices.com.