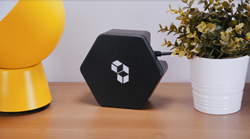 Collaboration has always been the most powerful technology. It's time to use it to shape the cloud as it should always have been.
BOLOGNA, Italy (PRWEB) April 10, 2019
Cubbit is reinventing the cloud with its breakthrough: a peer-to-peer cloud powered by Artificial Intelligence - more secure than the blockchain, faster than the cloud. With no monthly fees, space limitations or risk of data breaches, Cubbit's distributed cloud project successfully raised more than eight times its initial goal during its 33-day campaign on Kickstarter. With more than 1,700 backers raising $461,867, Cubbit is now headed towards the production of the Cubbit Cell while continuing to accept pre-orders on Indiegogo's InDemand.
"When we launched, we couldn't imagine such an incredible response," said Stefano Onofri, Co-Founder of Cubbit. "It tells a lot. It is a sign that many people share our feeling that the Internet is in danger, and people are ready to take action. Collaboration has always been the most powerful technology. It's time to use it to shape the cloud as it should always have been."
Cubbit takes the familiar concepts of cloud storage and internet privacy and expands upon them, leveraging the interconnective potential of the Internet to provide state-of-the-art performance and total privacy and security. This is made possible by the Cubbit Cell, the device enabling free, expandable, encrypted cloud storage.
Each Cubbit Cell provides 512GB of cloud storage, expandable up to 4TB. All files saved are encrypted with AES-256 and divided into dozens of redundant chunks, distributed across the network via end-to-end encrypted channels. The heavy load, namely storing and transferring files, is carried out by a peer-to-peer network of Cubbit Cells, single-board devices that together form "the Swarm." This network makes the users' data safe no matter what, accessible from anywhere and invisible to anyone else. Thanks to the distribution of workload, this hybrid architecture has ~1/1000 the maintenance costs of traditional data centers. This way, Cubbit enables the first collaborative cloud storage that is hack-proof, sustainable, and free from monthly fees.
With an estimated delivery date of August 2019, Cubbit will soon provide consumers with the storage they need with the total privacy they deserve. Cubbit has officially moved over to InDemand where customers can pre-purchase units at a discounted rate starting at $303. For more information, visit pr.go2.fund/cubbit.
About Cubbit
Cubbit is a born-global startup based in Bologna, Italy, and Tel Aviv, Israel. It was founded in 2016 by Marco Moschettini, Stefano Onofri, Alessandro Cillario, and Lorenzo Posani. Cubbit is bringing a new way to look at cloud storage solutions that help people protect their data, save money and safeguard the environment. Built upon years of research, the startup is funded by TechStars, Barclays, the EU Commission along with the H2020 framework programme as well as by the EU green project "Climate Kic". The technology is up and running in 10 different countries, and the startup actively collaborates with the CERN. For more information, visit https://www.cubbit.io/.