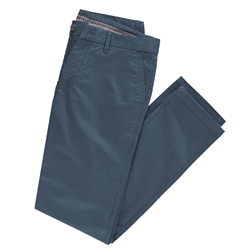 With our Go-To Chino pants and Pima Tee shirts, men will enjoy the result of our efforts to experience both a perfect fit and the pinnacle of comfort in all day apparel.
DALLAS (PRWEB) October 03, 2019
After raising nearly $200,000 for its Perk Go-To Chinos on Kickstarter, Perk is now offering the popular pants for real-time purchase at https://perkclothing.com.
Perk has also launched its new Pima Tee, a curved hem T-shirt made from Peruvian Pima Cotton and custom-developed for Perk by one of the world's best cotton manufacturers.
Perk products are built based on 20 years of apparel engineering experience, with development inspired by thousands of customer reviews and surveys. With its unique Alpha Testing Program, it's a customer-centric business that invites its best customers to join the product development process. In doing so, Perk has become an elevated basics brand that engineers daily wear for men who want reliable clothing and all-day comfort without the gimmicks or distractions.
"Unlike fast-fashion brands that skimp on durability and more expensive brands that include features for the sake of features, our goal is to help our customers by providing products that aren't gimmicky…but instead solve deep-rooted apparel problems like sizing, shrinkage, and comfort, aspects that plague the entire customer base," said Perk Founder and CEO Miguel Madrid. "With our Go-To Chino pants and Pima Tee shirts, men will enjoy the result of our efforts to experience both a perfect fit and the pinnacle of comfort in all day apparel."
The Perk Go-To Chinos offer everything a consumer wants in an active pant, from stretch to fantastic comfort, but with the look of the classic trouser. They feature a custom developed curved waist, an advanced and ultra-soft twill cotton knit free of chemical treatments, and a hint of added stretch, so they move comfortably.
The pants are the result of a new product development strategy that rethinks apparel as an integrated process of continual improvements.
"These chinos aren't smart, but were created thoughtfully based on consumer feedback, which means we focused only on the truly essential elements… or, as we like to say, they're functionally minimalist," Madrid said. "With their signature curved waist, a fit upgrade that curves naturally to the midsection, they are cut like your favorite pair of jeans, with just the right amount of slim."
With custom leg lengths and over 36 sizes available, Perk offers a size for everyone. The pants are available in five colors.
Perk's Pima Tee is made with Peruvian Pima Cotton, a higher-end cotton with a longer fiber than conventional cotton with a reputation for producing a smooth fabric that's soft to the touch, wrinkles less and is ultra-durable. Pima cotton fibers measure between 1.4 to two inches in length, while conventional cotton fibers measure less than 1.1 inches long – which means Pima cotton fabric comes out softer and more durable.
Because the product is designed for the long haul, each piece is cut precisely 3 percent larger across all trims and grades. This takes into account the specific fiber properties of the long-staple fibers after three washes, which is when cotton T-shirts reach their final form.
As a result, Perk offers an ultra-soft tee engineered to stay soft and fit after washing. It's designed in a modern curved hem that is made to be worn untucked and made specifically for the body of a human, not a box. Perk's Pima Tee is available in six color options.
"The Pima Tee is tag-less, does away with branding, and is versatile enough to be dressed up or used for daily, comfortable wear," Madrid said. "Our Pima cotton has a 50 percent longer life expectancy than other cotton products… and it's also great for people who have sensitive skin."
For more information or to purchase Go-To Chinos or Pima Tees, visit http://www.perkclothing.com.
About Perk
Miguel Madrid and Gabriel Kattan each spent years blazing their own trails, either focusing on building meaningful brands or diving headfirst into apparel design for big multinationals. But when they reunited in 2017, it was apparent they wanted to create something different and disruptive. Perk was born. They took it upon themselves to redesign clothing for the modern wearer. No detail is too small for them to obsess over, and if something can be improved, they improve it. That meant rethinking apparel development as a process of continual improvement, therefore improving how clothing functions, fits and feels. For more information, please visit their website at perkclothing.com.