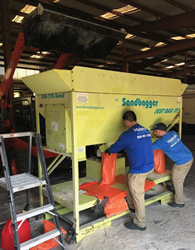 MaintenX knows a major component of successfully recovering from an expected storm is being prepared before the storm even arrives.
TAMPA, Fla. (PRWEB) September 16, 2019
States along the Atlantic coast experienced Hurricane Dorian's force last week after the storm lingered over the Bahamas and skirted along the east coast of Florida, Georgia, South Carolina and North Carolina. While the 2019 Atlantic hurricane season is barely more than halfway through, there have already been two hurricanes and seven named storms. The MaintenX Disaster Recovery and Rapid Response Team knows that storms of all sizes can cause major damage to facilities, and is very willing to share hurricane preparedness best practices with facility managers from coast to coast.
As one of the nation's largest facility maintenance companies, with headquarters in hurricane-prone Tampa, MaintenX has been offering best-in-class disaster response for more than 40 years. However, MaintenX knows a major component of successfully recovering from an expected storm is being prepared before the storm even arrives.
MaintenX also works hard to prepare in advance, meeting client needs as they arise. Bill Schaphorst, MaintenX's VP of Development, notes that technicians are hard at work making sandbags days before work orders come in from clients, which allows MaintenX to trailer the sandbags to staging areas throughout the anticipated impact area. MaintenX's skilled technicians can then place sandbags on the same day as the request. Additionally, MaintenX's relationship with the nation's largest home improvement retailer grants the team access to truckloads of plywood. Even when plywood is scarce to consumers, MaintenX is capable of fulfilling a board-up request on the same day or next day.
"Our Florida clients were very fortunate with Dorian's turn north," said Schaphorst. "While Dorian did not make U.S. landfall until it reached the North Carolinian Outer Banks, our teams met our clients' requests to board up and sandbag their coastal stores in Florida, Georgia, South Carolina, and North Carolina. The logistics of this storm were indeed challenging with its unpredictable track up the coast."
Damage from winds and rain isn't the only threat to facilities during hurricanes. Businesses can also be impacted by issues like power outages that can disrupt business continuity and impact an organization's bottom line. MaintenX has invested over $1 million in emergency response equipment, including a large fleet of portable 200 kw generators.
That's why clients contract MaintenX to provide emergency power to their stores. Within hours of a storm departing, MaintenX can trailer in a commercial-sized generator to help return stores to full operation.
MaintenX's skilled technicians can also help facility managers inspect their buildings before a storm arrives. From electrical improvements and plumbing enhancements to roof inspections and repair, MaintenX has the ability to help keep companies safe. For example, a roof inspection can reveal minor damage that could lead to a major leak during a storm, resulting in costly damage or facility closures.
Having the right supplies and manpower in place before a storm takes planning.
"As soon as a hurricane forms, the clock starts ticking down the amount of time remaining to prepare a facility for hurricane landfall and allow time for our personnel to travel back to a safe location. Don't wait to start making arrangements for your facility or to create your hurricane safety plan," said Schaphorst.
To learn more about MaintenX and variety of services they provide, visit http://www.maintenx.com.
ABOUT MAINTENX INTERNATIONAL:
MaintenX International is a fully licensed, facilities repair company. As one of the largest national self-performing facility maintenance and repair companies in the U.S., MaintenX has created a wide network of knowledgeable and professional technicians throughout the country. With their team of well-trained technicians, MaintenX self-performs and manages facility maintenance for their clients. In the event there is not a MaintenX technician in an area, the company has established a network of preferred vendor partners throughout the country for continued superior service for their clients. For more than 40 years, MaintenX has been expertly serving multi-location retail stores, restaurant chains and Fortune 500 companies nationwide.