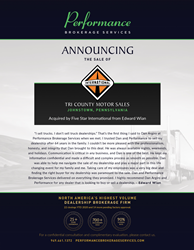 Taking care of my employees was a very big deal for me and finding the right buyer for my dealership was paramount to the sale. - Edward Wian
IRVINE, Calif. (PRWEB) August 12, 2020
Performance Brokerage Services, a new car and commercial truck dealership broker is pleased to announce the sale of Tri County International truck dealership in Johnstown, Pennsylvania from Edward Wian to Five Star International, LLC
Tri County Motor Sales, Inc. doing business as Tri County International in Johnstown, Pennsylvania provided sales and service for commercial trucks including the International franchise by Navistar. The business was founded by the Wian family in 1956 and moved to its current location in 1970. In 1993, Edward Wian took the reins of the family-owned dealership. After nearly 30 years as the dealer operator, Wian made the difficult decision to sell his dealership and retire from the trucking business. Wian shared, "Life and business are about timing. I sold my business at the right time and I'm thankful for all the years I had to serve my customers and help my employees. I will miss them, but they are in good hands. Taking care of my employees was a very big deal for me and finding the right buyer for my dealership was paramount to the sale." Wian sold the operating assets of Tri County Motor Sales, Inc. to Five Star International, LLC and Fred Scheler, President of Five Star International, LLC.
Wian hired Dan Argiro, the head of the Commercial Truck Division for Performance Brokerage Services, to represent him in the sale of his business. "I thought long and hard about selling the dealership myself, but I wanted to make sure I was doing the best for my family and my employees. I trusted Dan and Performance Brokerage Services to sell my dealership after 64 years in the family. I couldn't be more pleased with the service, professionalism, honesty and integrity that Dan brought to this deal. They kept my information confidential and made a difficult and complex process as smooth as possible. Dan was able to help me navigate the sale of my dealership and play a major part in this life changing event for my family and me."
Over the last 5 years, Performance Brokerage Services has represented for sale over 200 automotive dealerships making it the highest volume automotive dealership brokerage firm in North America. Dan Argiro, the exclusive agent for this transaction and the head of the Commercial Truck Division for Performance Brokerage Services commented, "It brings me great pleasure to help dealers and their families move onto the next phase in their lives. Helping them sell their dealerships for the best price to the right buyer is what it's all about. I am proud to have played a small part in Mr. Wian's life so that he may pursue the things he has always wanted to do beyond the dealership."
Fred Scheler, President of Five Star International, LLC, is a seasoned truck dealer operating International truck dealerships throughout Pennsylvania under the well-recognized and well-respected brand, Five Star International. Fred Scheler is a natural fit to carry on the legacy Edward Wian built over many years and to take the dealership to new heights. This acquisition was a great strategic fit to complement Five Star's existing portfolio of International dealerships in Pennsylvania. Following the purchase, Fred commented, "We are extremely excited to have the opportunity to grow and expand on the foundation the Wian family built with Tri County Motor Sales since 1956. Ed Wian has been extremely helpful throughout the transition and will be helping Five Star through October. We look forward to building the International brand in Western Pennsylvania."
The dealership will remain at its current location at 1575 Ferndale Avenue and operate under the new name of Five Star International, LLC. The dealership will also offer truck leasing through its sister company Five Star Idealease, LLC providing daily commercial rentals, full-service leasing and contract maintenance solutions.
About Performance Brokerage Services
Performance Brokerage Services, an auto dealership broker, specializes in professional intermediary services to buyers and sellers of automotive, commercial truck, Harley-Davidson and Powersports dealerships.
The company offers a different approach by providing complimentary dealership assessments, no upfront fees, no reimbursement of costs and is paid a success fee only. Performance Brokerage Services gets paid only after the client gets paid.
With nearly 30 years of dealership brokerage experience, the company utilizes an extensive network of industry related accountants, attorneys, hundreds of registered buyers and enjoys longstanding relationships with most of the auto manufacturers. The intermediaries at Performance Brokerage Services have been involved in well over 700 transactions. Pledging loyal and unwavering representation, confidentiality is vigilantly protected during the selling process and after the transaction closes.
With corporate offices in Irvine, California, 5 regional offices in Utah, Florida, Texas, Virginia, and New Jersey, a dedicated Harley-Davidson and Powersports Division, and a dedicated Commercial Truck Division, Performance Brokerage Services provides its clients national exposure with local representation. For more information about the services offered by Performance Brokerage Services, visit https://performancebrokerageservices.com.