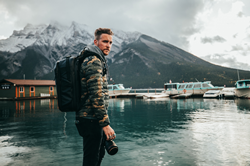 It's hard to find the perfect camera bag when you want one that can serve as both a camera bag and a travel bag at the same time, especially when you're going on a short trip for a few days, but The Camera Pack: Peter McKinnon X NOMATIC fills that need.
SALT LAKE CITY (PRWEB) November 16, 2019
After once again surpassing the million-dollar mark with one of its travel bags on Kickstarter, raising over $2.2 million for 'The Camera Pack: Peter McKinnon X NOMATIC,' crowdfunding for the multi-functional, tech-laden camera bag continues on Indiegogo InDemand.
NOMATIC teamed with YouTube photographer/videographer sensation Peter McKinnon to create the ultimate camera pack. McKinnon, a YouTube star who creates content about photography and cinematography for nearly four million YouTube subscribers, was already a big fan of the NOMATIC line of travel bags when he partnered with the company to design a functional camera pack with travelers, photographers and adventurists in mind.
"We appreciate all our supporters and want to thank everyone who made our newest travel bag a tremendous success on Kickstarter," said NOMATIC co-founder Jon Richards. "They will be the first to enjoy this easy-to-organize camera bag, its quick access pockets and all the cool features that will make their next trip a breeze."
More than 6,000 crowdfunders, led by backers in the United States, Canada, the United Kingdom and Germany, invested in the new camera bag – created by the NOMATIC team and McKinnon to be "a full travel system" for any photographer.
Focusing on organization, the Peter McKinnon X NOMATIC is created with thoughtful compartmentalization featuring endlessly customizable folding dividers and a separate clothing compartment to optimize packing. The camera pack is carry-on size and includes several easy access pockets – including a quick camera access pocket and one with a full-width opening, along with an external laptop pocket for a 15-inch laptop.
It also can expand from 35 liters/2,100 cubic inches to 42 liters/2,600 cubic inches – with pockets for a tripod/bottle, tablet and other small items.
Other features include:

Aluminum stays and waist straps
Tensioners
Thick shoulder pads
Breathable Eva foam channels
Carry-on size
4 grab handles
Water resistance
Luggage passthrough handle
Locking zippers
It also comes with a cube pack made with durable materials that fits perfectly in the camera bag, which can be used to store a camera or a drone, or transitioned into a small backpack, an accessory case; a protective Eva foam formed case with customizable dividers inside; a card case that holds up to six SD cards and four C fast cards with a zipper pocket; and a lens filter case, designed to hold up to six filters.
McKinnon and the NOMATIC team also focused on comfort, designing the camera pack with a full internal suspension system to lighten the load and multiple external adjustment and support straps.
"It's hard to find the perfect camera bag when you want one that can serve as both a camera bag and a travel bag at the same time, especially when you're going on a short trip for a few days, but this camera pack fills that need," McKinnon said. "With the X NOMATIC, I don't have to bring my backpack with all my camera gear and a rolling bag on those trips anymore. For myself, and other photographers whether they are professionals and hobbyists, this camera pack is the perfect traveling companion."
For more information, or to purchase the camera pack while it's available at an early-bird discount during crowdfunding, visit the Camera Pack: Peter McKinnon X NOMATIC Campaign Page on Indiegogo InDemand.
About NOMATIC
NOMATIC began in 2014 when two cousins, Jon Richards and Jacob Durham, designed a wallet and launched it on Kickstarter. They expected to get about 50 orders, but over 6,000 people backed their campaign, investing $171,000. Since then, Richards and Durham have raised more than $10 million through eight crowdfunding campaigns, as NOMATIC continues to design the most functional products on the market for travel and everyday carry. Everything NOMATIC creates, from Travel Packs to Planners, is designed to inspire confidence for "Life On The Move" to enable people to work hard, do more and never stop moving. For more information visit http://www.nomatic.com.