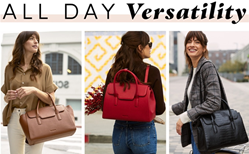 We want to thank all our backers on Kickstarter who affirmed our idea that The All Day Bag is the perfect solution for women on-the-go everywhere.
NEW YORK (PRWEB) March 25, 2020
After raising more than $440,000 from backers on Kickstarter, crowdfunding for the versatile 'All Day Bag' designed by Wool & Oak continues on Indiegogo InDemand.
"We want to thank all our backers on Kickstarter who pushed our presales more than seven-times higher than our initial campaign goal and affirmed our idea that The All Day Bag is the perfect solution for women on-the-go everywhere," said Wool & Oak Co-founder Gizem Mut-Webster. "We call it a 'multitasking masterpiece' since it can be used as a handbag, a backpack or a tote – and its straps can even be adjusted to create a whole new bag."
The All Day Bag is crafted from full-grain premium leather and designed to flatter and enhance the female silhouette. The All Day Bag is designed to elevate every outfit for any occasion and represents a premium handbag without the premium mark-up – with crowdfunders receiving an additional $80 early-bird discount off the suggested retail price during the campaign.
The All Day Bag features include:

Versatile, adjustable strap to switch from handbag, backpack to tote with one simple pull.
13" laptop sleeve with 15" laptop compartment (spacious enough to hold a packed lunch, too)
Notebook sleeve
Four pockets
Leather loops for pen and lipsticks
Water bottle holder
Fold-in side gussets that allow for freedom to switch silhouettes and allow for further storage space
Clip for keys
Concealed phone pocket on the back panel
Crafted in full grain leather (croc print or pebbled), The All Day Bag also provides ease of access on-the-go with a folded top flap with a leather covered magnetic closure – with a silver zipper top closure that adds both a touch of elegance and peace of mind when it comes to keeping items secure.
Mut-Webster says she created the bag for herself and other busy women like her.
"No item in a woman's wardrobe elevates any outfit like a premium handbag and, as a female co-founder of a fashion startup, I needed a bag solution that offered me comfort and function all day, in any situation, without having to sacrifice a feminine and elegant style," she said. "Our morning-to-moonlight All Day Bag is great for any situation. Whether you take it to work, walk with it, bike with it, run errands with it, go to dinner with it, or take the uber or public transit with it, the All Day Bag is ready to move with you."
For more information or to purchase the All Day Bag at an early-bird discount visit The All Day Bag Campaign Page on Indiegogo InDemand.
About Wool & Oak
Wool & Oak is an adventure between husband and wife and duo co-founders Johnathan and Gizem Mut-Webster. Their passion for travel, as well as their love for design and fashion, inspired them to create Wool & Oak in 2016 so they never again have to choose between style and comfort. The couple launches their product innovations on Kickstarter because it gives them the freedom to run the business exactly how they want – and so they can continue to develop products without seeking venture capital and being burdened by profit margins, growth goals, revenue targets or product timelines imposed by other people. Instead, the company focuses on doing what they love doing at our own pace: creating the best products that improve the way people travel and enhancing their travel experiences. For more information, visit WoolandOak.com.