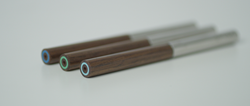 Sparq is a revolutionary device that allows users to inhale with confidence, knowing that they're trading in nicotine and harmful chemicals for extensively researched nutraceutical ingredients.
NEW YORK (PRWEB) December 03, 2018
Following a successful crowdfunding campaign that surpassed $90,000 in presales, more than six times the initial campaign goal, crowdfunding for Sparq "Vitamin Air," a wellness focused inhalation device, continues on Indiegogo InDemand.
"We set out to design a vitamin-infused smoking alternative for adults that was safe, nicotine-free and health-focused and we're grateful that backers have supported our campaign," said Sparq Co-Founder Avi Kwitel. "Sparq is a revolutionary device that allows users to inhale with confidence, knowing that they're trading in nicotine and harmful chemicals for extensively researched nutraceutical ingredients."
With Sparq, consumers can enjoy a smart inhalation device where wellness is the goal – and a device that also eliminates any concerns about the effects of nicotine. Kwitel says that Sparq and Vitamin Air was born out of the desire to offer consumers an entirely new, guilt-free genre of inhalation products.
"We got tired of seeing other companies irresponsibly releasing vape products that were not sufficiently tested for safety," Kwitel said. "There are simply too many harmful chemicals found in virtually all of the disposable products that are available on the market today."
Unlike other competitors, Kwitel says the company completed extensive lab testing to ensure Sparq and Vitamin Air are safe to use – sparing no expense during research and testing of the ingredients so consumers can be confident when inhaling with Sparq.
"During development, we raised the bar in terms of both product and overall social responsibility by replacing harmful chemicals and ingredients with vitamins," Kwitel said. "Unlike other vaping devices, Sparq devices contains zero nicotine, tobacco or other harmful chemicals -- with the nicotine replaced by all-natural vitamin amino-acid and herbal formulations."
Sparq uses two delivery methods – the disposable Vitamin Air and the rechargeable Vitamin Air Pro – both designed using the safest biodegradable materials.
Vitamin Air is the only device in the world made with a real wood exterior. It uses no cotton to hold liquid and instead features a wickless chamber and non-toxic heater. All other internal components are made with food-grade silicon.
Vitamin Air PRO uses a rechargeable battery and a twist-turn, pre-filled/cartridge-based system, and offers universal compatibility with most tobacco and marijuana containing cartridges on the market.
Each device is powered by a lithium battery that provides over 400 inhalations.
Available in two all-natural flavors, Vanilla Bean and Strawberry, and infused with an organic base of USP grade vegetable glycerin, Sparq offers three formulas for inhalation:

"Fuel Energy" is designed to recharge with natural power boosters including green tea extract and B vitamins to elevate mental and physical endurance.
"Pure Anti-Aging" will renew the user's appearance with two of the most eminent nutraceuticals in the anti-aging community, resveratrol and pterostilbene.
"Melt-Appetite Suppressant" will help reshape the user's body with herbally-sourced vitamins and amino acids commonly found in metabolism-boosting foods.
All formulas contain the essential natural nutrients CoQ10 and D3, which play multiple roles in maintaining a healthy body.
"Whether you choose the disposable or recyclable device, each uses natural and organic ingredients." Kwitel said. "It's a product designed to improve the lives of users by enabling a positive lifestyle change. As smokers continue to switch to E-Cigarettes, Sparq wants to provide an all-natural and organic smoking alternative that is superior in every way."
For more information and to purchase the product at discounted pricing during crowdfunding, visit the Sparq Campaign Page on Indiegogo InDemand.