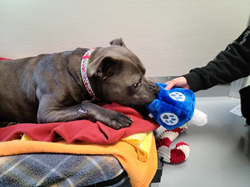 "Marty had every reason in the world to be aggressive toward humans, but he never was. He showed us nothing but love and trust. This is why we fight every day for animals like him. I can't think of a better holiday gift than finding a home for such a deserving dog."
MONROE, Wash. (PRWEB) December 21, 2020
When he was rescued in 2019, Marty the dog was emaciated, covered in painful sores, and barely clinging to life. This week, after nearly two years of rehabilitation at Pasado's Safe Haven, Marty was able to go home with his forever family for the holidays.
"Marty is doing terrific," said Steve Klein, Marty's new dad. "He is melding right into our quiet, rural life."
It is a far cry from where Marty started in life just a few short years ago. Marty – who resembles the "KitBull" dog from the award-winning Disney short -- was abused, neglected, and starved. He was kept in a wire cage in a garage with no fresh air and never given consistent access to the outside. Injuries were not treated, and he never learned common social skills. When his owners abandoned their rental house, they left Marty and two other dogs locked inside the cages without food or water.
"Marty was incredibly lucky that the landlord found the dogs and called police to help," said Laura Henderson, executive director of Pasado's Safe Haven, the Pacific Northwest's leading animal sanctuary and rescue organization. Regional Animal Services of King County acted quickly and brought Marty and the two other dogs to a local shelter. But while the other two dogs found homes, Marty began to emotionally shut down. He was suffering from significant mental trauma – a common occurrence for animals that have been abused and neglected. The shelter called Pasado's Safe Haven for help.
"Marty is the kind of dog that many shelters just can't take on, because getting them to the point where they are adoptable takes a very long time – and sometimes never happens," Henderson said. "Our mission is to rescue and rehabilitate animals that have nowhere else to go. Our caretakers are uniquely qualified to help animals who need little extra time to heal, both physically and emotionally."
Marty was extremely afraid of new people (especially men) and suffered from severe separation anxiety. Bryana Walters, behaviorist at Pasado's Safe Haven, designed a unique care plan to address Marty's specific needs.
"With Marty, the key was convincing him that life could and would be different," said Walters. "We needed to retrain his brain to understand that a previously negative thing could be a positive thing. We rewarded Marty every time he simply looked at a stranger and stayed calm and relaxed. Eventually, he was able to meet new people with no issues."
Marty also started medication for his anxiety and was rewarded each time he sat calmly in a room by himself as caretakers went in and out of the door. Lastly, Walters taught Marty how to "self-soothe" – providing him with a safe place to go when he felt uneasy. The key, Walters said, was finding methods that not only worked for Marty but also could easily be taught to his new family.
"Bryana taught us the training exercises, which we've incorporated into our daily life with Marty," said Klein, who got the idea to rescue a dog from a retirement magazine article about how to give back this holiday season. "(My wife) and I feel he is becoming more and more trusting every day."
Henderson added: "Marty had every reason in the world to be aggressive toward humans, but he never was. He showed us nothing but love and trust. This is why we fight every day for animals like him. I can't think of a better holiday gift than finding a home for such a deserving dog."
Pasado's Safe Haven, the Pacific Northwest's leading animal sanctuary and rescue organization, is leading the fight against animal cruelty and works to create a world where every animal is protected. Our uniquely comprehensive approach to ending animal cruelty holds abusers accountable, provides sanctuary and rehabilitation to animals who have suffered from abuse/neglect, advocates for better laws to keep animals safe, and works to inspire people to grow their circle of compassion to include all animals. Follow us on Twitter, Facebook or Instagram for daily updates on rescues as well as animals in our care or visit our website at http://www.pasadosafehaven.org.