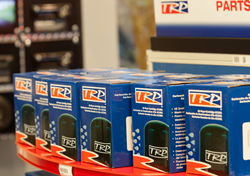 Located conveniently in North Charleston, TLG's new TRP store will bring aftermarket commercial equipment parts to customers along the eastern seaboard.
SPRINGFIELD, Mo. (PRWEB) July 25, 2019
The Larson Group (TLG), an award-winning Peterbilt company with 20 locations across the Midwest and Southeast, recently announced plans to open a new TRP parts store outside of Charleston, S.C. In addition to providing quality aftermarket parts for a variety of commercial applications, the location will offer parts delivery and mobile service after its grand opening on August 1.
Bringing Convenience & Quality to the East Coast
TLG's new TRP parts store will feature a 2,500 square foot showroom and office space, a 14,000 square foot product warehouse, two parts delivery vehicles, and one mobile service truck. The store will also have eight full-time associates, including George Sanders, who will take on a role as parts manager.
Given that TLG specializes in aftermarket Peterbilt parts, the new TRP store will be especially convenient for Peterbilt customers, though TRP provides parts for trucks, trailers, buses and engines of all makes and models. Located right off I-26, a major thoroughfare, the new TRP store will allow TLG to give customers quick interstate access to reliable, hard-to-find aftermarket parts.
"This store location will allow us to be closer to our customers and better serve their parts needs," said TLG Vice President of Parts Richard Dorsey. "We've worked to establish valued relationships with fleet owners and drivers in the Charleston area, which has also shown us there is a strong population of customers who will benefit from this store."
Associates will be available throughout the new TRP store to help shoppers select aftermarket truck parts that meet custom specifications for a variety of brands. The store will also offer customers outside sales and professional all-makes part support through local parts delivery, including the added convenience of delivery to truck shops in the area.
The new TRP parts store is conveniently located at 2241 Technical Parkway, North Charleston, S.C. Starting August 1, the store's hours will be Monday through Friday, 7:30 a.m. to 5:30 p.m.
TRP Parts
TRP is PACCAR's global brand of aftermarket replacement parts for trucks, trailers, buses and engines. All TRP products are backed by industry-leading warranty and support, and the products exceed expectations for quality, reliability and value. TRP parts are available through authorized retailers that include Peterbilt, Kenworth, DAF dealerships and TRP Stores around the world. Supported by a worldwide network of parts and service professionals, TRP offers dependable aftermarket products designed and tested to exceed customers' expectations for quality and value. Regardless of the age, make or application of the vehicle, TRP is the all-makes leader.
The Larson Group
The Larson Group has been providing quality Peterbilt products and exceptional service across the Midwest and Southeast for more than 30 years. TLG has built teams of qualified, highly trained professionals to provide customers the best service for their commercial transportation needs at 18 Peterbilt facilities from the Kansas-Missouri border to the Atlantic Ocean.
For more information about The Larson Group's Peterbilt parts inventory or to experience its exemplary customer service first-hand, call 417.865.5355, visit www(dot)TLGtrucks(dot)com or contact Marketing Manager Stephanie Cowdrey at scowdrey(at)tlgtrucks(dot)com.