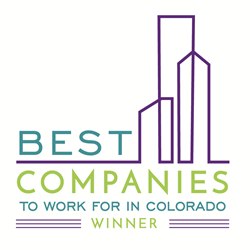 "Without great people, none of this is possible," Taylor Merritt said. "We've got a great team. I'll put them up against anybody in the industry."
DENVER (PRWEB) January 30, 2020
Merritt Aluminum Products Company, a Fort Lupton, Colo.-based manufacturer of aftermarket truck accessories with 68 years of manufacturing excellence, picked up their first accolade of 2020, as they were awarded the top spot in the Best Companies to Work For in Colorado's medium business category.
This most recent award, presented by ICC and ColoradoBiz magazine during their annual awards celebration, marks the company's first hat-tip of 2020, following on the heels of several industry awards earned in 2019.
Taylor Merritt, chairman and CEO of Merritt Aluminum Products, said the company — which designs and manufactures an array of products for the trucking industry, including cab racks for tractor-trailer rigs, storage boxes, fenders and other accessories — racked up awards in several different categories last year.
"We were named the Industrial and Equipment Manufacturer of the Year for 2019 and recognized as one of Colorado's Companies to Watch in 2019," Taylor Merritt said. "It's an honor to be named among the best companies to work for in Colorado and start out 2020 on such a high note."
He added that despite garnering many awards in the past, the Best Companies award is the company's proudest achievement yet.
Unlike many other "best company" awards, the ICC and ColoradoBiz contest is based primarily on feedback from employees, rather than financial projections and employee counts.
"Without great people, none of this is possible," Taylor Merritt said. "We've got a great team. I'll put them up against anybody in the industry."
Merritt implemented a series of employee surveys in the last several years, asking for input regarding workers' perception of the company, mission, involvement and consistency, and turning the responses into tangible results throughout the company. That effort initially resulted in a 2018 nod from ColoradoBiz magazine with an Award of Excellence and Culture Momentum.
"We pride ourselves on devoting time and resources to ensure a strong culture based on our core values of integrity, trust, excellence, respect and teamwork," Taylor Merritt said. "We plan to take this momentum into 2020 and continue to build on our solid foundation."
The CEO said the company expects to garner more accolades throughout the year, as they continue to expand, with plans to put additional focus on customers' needs and fostering a positive work environment.
Merritt Aluminum Products Company is North America's leading manufacturer of aluminum accessory products for the trucking industry. Merritt is family-owned and operated with over 68 years of manufacturing excellence.