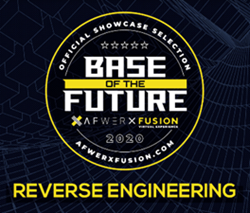 COLUMBUS, Ohio (PRWEB) October 06, 2020
AFWERX, the catalyst for fostering innovation within the U.S. Air Force, selected DISCUS Software in the Enabling Technologies for Reverse Engineering and Additive/Agile Manufacturing Challenge.
DISCUS Software Company was competing in the Enabling Technologies for Reverse Engineering and Agile Manufacturing Challenge alongside 150 diverse teams - originating from the vast regions of North America, Europe, Australia and other allied countries – that represent entrepreneurial startups, small businesses, large enterprises, academic institutions and research labs all vying to offer solutions for reverse engineering and additive manufacturing. DISCUS Software was one of three companies selected for a round of funding by the U.S. Air Force.
"We are proud and excited that the Air Force has selected DISCUS Software as one of the winners for this AFWERX Showcase. We are looking forward to working with Renaissance Services in collaboration with the Air Force and Department of Defense on using Artificial Intelligence (AI) to support reverse engineering, technical data package (TDP) generation, and first article inspection (FAI)" said Chris Lininger, Director of Product Development at DISCUS Software.
DISCUS has an existing software tool for analyzing TDPs, which is used by nearly 2,000 companies in the aerospace and defense industry, including Lockheed Martin, Raytheon, Collins Aerospace, Pratt & Whitney, and GE Aviation. As evidenced by this success, DISCUS has vast experience with transforming 3D models, 2D drawings, and specifications into useful information. In the current state, the DISCUS software tool provides a semi-automated approach for extracting critical information from the 2D drawing using optical character recognition. DISCUS will be adding artificial intelligence (AI) capabilities to its current software to further enable automation and digital engineering. This will enhance the current tool to focus on greatly improved automation in extracting requirements from legacy part drawings.
To visit DISCUS Software go to http://www.DISCUSsoftware.com
To try out DISCUS 2020, Download the free trial installer by clicking here.
For questions or a demo, contact sales@DISCUSsoftware.com or call 614-360-2424 ext. 1.
DISCUS Software Company specializes in the development of software tools for accelerating manufacturing and quality engineering. Its software products are productivity solutions that dramatically reduce the time it takes to complete first article inspection reports, in-process inspection planning and process planning. DISCUS was the first software product to automate engineering drawing annotation and manufacturing inspection requirement extraction. DISCUS is the innovator, not the imitator, in the First Article Inspection Reporting automation market. DISCUS is compatible with many of the requirements used by companies such as Boeing, Ford, GE, Lockheed, and Siemens. For more information visit https://www.discussoftware.com/.