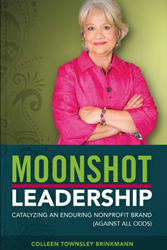 "In this book, I include principles, learnings and reflection exercises that will help CEOs, executives, board members, marketers, fundraisers and social entrepreneurs gain insights on how to solve some of the common problems they face every day while running a nonprofit or purpose-driven company."
DALLAS (PRWEB) January 08, 2019
Colleen Townsley Brinkmann, a highly regarded nonprofit industry strategist and former Chief Philanthropy Officer for the North Texas Food Bank, has authored a new book titled Moonshot Leadership: Catalyzing an Enduring Nonprofit Brand (Against All Odds). This book offers Brinkmann's perspective on the rise and sustained success of NTFB, and key lessons and insights she learned that are applicable to all leaders with a vision that includes mobilizing others to accomplish a goal. In addition, Brinkmann shares her journey of how she went from living in a village in India to becoming a nationally-recognized nonprofit leader.
NTFB had a humble beginning in the 1980s as a distributor to local food pantries and shelters. Moving into the new millennium under then-CEO Jan Pruitt's leadership, NTFB's growth was meteoric and sustained, reaching 72 million nutritious meals annually. Today, NTFB has emerged as a major player in America's fight to address hunger. At the core of the NTFB success story is leadership, specifically a thoughtful yet bold form of leadership that Colleen describes as Moonshot Leadership. The Moonshot Leadership practiced and exhibited by NTFB led to a 588% increase in annual public support over 14 years ($2.6 million to $17.9 million), a successful capital campaign realizing over $55 million, and most importantly, the reduction of food insecurity in a region larger than many countries.
"Without a doubt, my 30 years in nonprofit work have provided case studies for how to achieve transformation amidst immense hurdles. I hope that by sharing stories and critical insights from my life and career, others will be better able to overcome similar roadblocks and soar," Brinkmann said. "In this book, I include principles, learnings and reflection exercises that will help CEOs, executives, board members, marketers, fundraisers and social entrepreneurs gain insights on how to solve some of the common problems they face every day while running a nonprofit or purpose-driven company."
Recently, Brinkmann joined Career Management Partners (CMP) as a Senior Consultant of Purpose-Driven Strategy and Brand. In this role, Brinkmann provides strategic services to purpose-driven nonprofits, businesses and corporations.
"Colleen's story is one of deep passion, commitment and authenticity," said Bill Hogg, member, NTFB Board of Directors. "When combined with her leadership and collaboration insights, her story provides a blueprint for accomplishing the seemingly impossible. Through this story, she has left something of meaning and lasting value for North Texas and the reader for many years to come."
The book is published by CMP, a leading executive search, development, assessment, coaching and outplacement firm. A portion of the book sales will go to the North Texas Food Bank, the Greater Chicago Food Depository and the Atlanta Community Food Bank.
Moonshot Leadership: Catalyzing an Enduring Nonprofit Brand (Against All Odds) is available at Amazon, Barnes and Noble and other online booksellers. You can also order the book directly at https://www.careermp.com/moonshot-leadership
For more information, or to contact Colleen Townsley Brinkmann, visit https://www.careermp.com
Book cover JPG: http://bit.ly/MoonshotBookCover
Testimonials: https://www.careermp.com/moonshot-leadership-reviews
Media review copy request: donna.tanner@lux214.com
About the Author
Colleen Townsley Brinkmann, CFRE, is a dedicated nonprofit professional with more than 30 years of senior leadership and management experience. She is considered an innovator and risk-taker, and is often called upon to advise nonprofit peers, CEOs and corporate leaders on social responsibility, philanthropy, cause marketing and nonprofit branding.
About CMP
CMP is a people development and transition firm focused on executive recruiting, assessment and development of leaders, and innovative outplacement and career transition solutions. CMP has offices in Atlanta, Charlotte, Chicago, Dallas, Fort Worth and New Orleans, and delivery capability across the nation and globally through OI Global Partners. CMP is a Woman and Minority Owned Business. For more information, visit http://www.careermp.com.