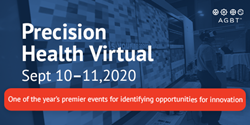 ST. LOUIS, Mo. (PRWEB) September 03, 2020
The fifth annual AGBT Precision Health conference, September 10-11, 2020, will feature 15+ expert speakers to present updates on their latest research and technology in the areas of genomics, medicine, and health. This event will highlight innovative technologies and their impact in clinical diagnostics and therapeutic development, as well as the evolving view of genotype-phenotype interpretation from rare variants to polygenic risk scores.
Among the line-up of speakers is Howard A. Zucker, M.D., Commissioner of Health for New York State, who has been working with Governor Cuomo to manage New York State's response to the COVID-19 pandemic and has worked at the helm on such critical issues as the 2018-2019 measles outbreak, vaping-related illnesses, Legionella, the Zika virus, Ebola, and medical marijuana.
Other featured speakers include, Oliver Pybus, Professor of Evolution and Infectious Disease, University of Oxford, co-Director of the Oxford Martin School Program for Pandemic Genomics and editor-in-chief of Virus Evolution, Jemma Geoghegan, Evolutionary Biologist and Virologist, University of Otago, New Zealand, and Kristian Andersen, Director of Infectious Disease Genomics, Scripps Research Translational Institute and Vice President of the Viral Hemorrhagic Fever Consortium and the Principal Investigator of the Center for Viral Systems Biology and the West African Emerging Infectious Disease Research Center. Dr. Andersen has spearheaded several large international collaborations investigating the spread and evolution of severe human pathogens, including SARS-CoV-2, Zika, Ebola, West Nile, and Lassa.
"The COVID-19 pandemic is unprecedented in many ways, and genomics is no exception. Nearly 100,000 SARS-CoV-2 genomes have been generated this year and are being used worldwide to inform and support public health efforts. AGBT is an opportunity to present this important epidemiological work to the broader genomics community." - Oliver Pybus, Professor of Evolution and Infectious Disease, University of Oxford, co-Director of the Oxford Martin School Program for Pandemic Genomics and Editor-in-Chief of Virus Evolution.
Produced on LabRoots' robust platform, connecting across all desktop and mobile devices, the interactive experience includes an auditorium and virtual exhibition featuring new healthcare innovations. The event aims to pass the torch from pioneering researchers and developers of genome technologies to first movers in healthcare who are establishing standards of care and cutting-edge applications for genome technology in everyday clinical practice. For more information, to view the 2-day agenda, or to register for the event, click here.
About AGBT
AGBT is the world-renowned not-for-profit provider of three prestigious conference and networking events for the leading luminaries and change-makers of the life sciences and global biotech community. By providing opportunities for the global scientific community and technology industry to gather and collaborate, AGBT functions as a key player in advancing DNA sequencing technologies, driving novel applications, and furthering experimental and analytical approaches for genomic studies in the public and private sectors.
About LabRoots
LabRoots is the leading scientific social networking website, as well as a primary source for scientific trending news, premier educational virtual events/webinars and more. Contributing to the advancement of science through content sharing capabilities, LabRoots is a powerful advocate in amplifying global networks and communities. Founded in 2008, LabRoots emphasizes digital innovation in scientific collaboration and learning. Offering articles and webcasts that go beyond the mundane and explore the latest discoveries in the world of science, LabRoots users can stay atop their field by gaining Continuing Education Credits from a wide range of topics through their participation in the webinars and virtual events.