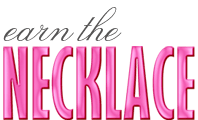 I find the issue of age shaming to be fascinating.
West Palm Beach, FL (PRWEB) March 17, 2014
EarnTheNecklace.com, a revealing and engaging web site with articles written by women who exchange their stories and confessions about being in a relationship with a much older man, is responding to the debate that "age shaming" men who choose to date younger women is justified.
A recent article on CafeMom.com asserts that online dating is difficult for women in their 40s because, among other reasons, men in their 40s, 50s, and 60s like dating younger women. The writer asserts that men's learned behavior to date much younger women can be blamed, in part, on Hollywood actors such as George Clooney and Bruce Willis. (Source: "'Age-Shaming' Men Who Only Want Younger Women Is Justified," CafeMom.com, February 15, 2014; http://thestir.cafemom.com/love_sex/168379/ageshaming_men_who_only_want.)
"I find the issue of age shaming to be fascinating," says Bianca-Marie Coventry, EarnTheNecklace.com's content manager. "On the surface, those who justify age shaming believe they are bringing to light some sort of discrimination that needs to be rectified, and that the lonely writer's life is less fulfilled because men the same age are not interested in her, but less deserving, older men are."
Coventry notes that in an effort to show that men who date younger women are shallow, the author has simply proven that people have different standards when it comes to dating. For example, according to two surveys, women do not like short men; in Manhattan and the Bronx, just 1.2% of respondents said they would contact a man that was under five-foot-nine. (Source: Buiso, G., "Short men don't stack up with NYC women," New York Post web site, December 8, 2013; http://nypost.com/2013/12/08/short-men-dont-stack-up-with-nyc-women/.)
Further, a dating survey in the U.K. shows that men who report their height as at least six feet tall are 33% more likely to be contacted by a woman than a man of average height (five-foot-seven). In the U.K., the man is taller in 92.5% of couples. (Source: Waterlow, L., "Size matters in online dating: Short men get less interest from women than their taller counterparts - and those at 6ft have the most luck," Daily Mail web site, December 16, 2013; http://www.dailymail.co.uk/femail/article-2524568/Size-matters-online-dating-Short-men-taller-counterparts.html.)
The author also questions what right older men have to have a cutoff age range. Coventry notes that because the author thinks she is being age shamed, she believes it's important to age shame back, and that if age-shaming tactics make men ponder their relationship preferences for even half a second, then it's a job well done.
"The relationship experts at EarnTheNecklace.com understand that when it comes to dating, everyone has their preferences. To someone looking in, wanting to date younger women is shallow, but apparently wanting to date a taller man isn't," Coventry adds. "But ultimately, when it comes to making relationships work, nothing is as important as compatibility."
Coventry explains that when it comes to physical compatibility, some women want their partner to be taller or have a certain eye color, while some men want their partners to be younger. What's important to keep in mind is that physical compatibility relies on traits that are 100% genetic—factors that cannot possibly predict the success of a relationship.
"When it comes to online dating, people tend to say they want an attractive partner with a good job and great sense of humor. More specifically, some men like dating younger women because it makes them feel youthful, while some women like dating older men because they're looking for a mature, successful, and ambitious man," Coventry concludes. "Ultimately, it's better to find someone you're compatible with than age shaming those you aren't."
To learn more about Earn the Necklace, visit the web site at http://www.EarnTheNecklace.com. The site wants to hear from women dating or married to men 20 years or more their senior! And if it's a story they publish, they'll pay $500.00, with an opportunity to write more.
About the Web Site: Earn the Necklace (EarnTheNecklace.com) is a web site featuring stories written by women in relationships with much older men and who want to assist other women in the same situation. The site helps women in this position understand and navigate the potential ups, downs, joys, trials, and even unforeseen consequences, all based on real-life stories from women who have been in the same situation. The web site also offers other celebrity gossip and juicy stories, all geared to those who are in a relationship with a much older man.