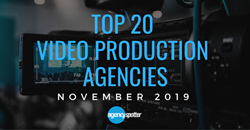 "They are natural storytellers and I can not stress how much of an amazing experience it's been working with them." - Carla Gentile​, Founder/Owner of Steam Products
ATLANTA (PRWEB) November 20, 2019
The Top 20 Video Production Agencies Report evaluates more than 360 video production agencies based on Agency Spotter's proprietary research methodology. This report takes a broad look at content marketing agencies from around the world.
Insight on the Winning Video Production Agencies
60% are mid-sized agencies
15% are based in New York, NY
15% are women-owned
10% are minority-owned
These top video production design agencies work with some of the world's most established brands, including Calvin Klein, FedEx, HP, SAP, Toyota, and Verizon.
Creative Deviants earned first place on this Top 20 Video Production Agencies Report. This agency focuses more on what they do rather than their label. Creative Deviants produce rich, fulfilling content that speaks with authenticity and clarity.
This agency works with brands that haven't launched and others that were around when emojis were carved into pyramids. Sometimes the content they create is funny (they're good at that) and sometimes it's not (they're also good at that). They're different in that they do it all in-house. Creative Deviants is an agency and production company in one, which allows them to work with their clients' budgets, rather than around them.
Carla Gentile​, Founder/Owner of Steam Products states, "They are natural storytellers and I can not stress how much of an amazing experience it's been working with them."
Creative Deviants' clients include Boys & Girls Clubs of America, Honey, Nike, Pearson Education, and Sony Pictures​.
Simple Story placed second on the Top Video Production Agencies Report. Simple Story was founded in 2011 and has produced over 500 animation and live-action videos for a full gamut of industries, from startups to Fortune 500 companies with varied clients. As a Video Design Agency, they use a sophisticated creative approach with technical methodology to balance art and production to meet business objectives.
Their team is built with balance; consisting of marketing professionals and creative minds that work together to provide the type of performance and execution normally seen in large scale agencies. Through their collective expertise, this agency understands effective communication and how to resonate with audiences in order to maximize influence. Some of Simple Story's clients include Citrix, Coca-Cola, Home Advisor, and Walmart.
Top Video Production Agencies
Rank Agency Name
1 Creative Deviants
2 Simple Story
3 IndieWhip
4 Lemmon/Hughes
5 Kworq
6 Mitchell Palmer
7 Sociallyin
8 Weller Creative
9 zooom productions
10 Jukebooth
11 three squared
12 Rebel of America
13 Stork
14 Mane Co
15 fLO Content Marketing
16 Honest Motion
17 Owen Jones and Partners LTD
18 Magic Beans Creative
19 Pluck. A creative studio.
20 Your Story
About Agency Spotter
A B2B marketplace and SaaS provider, Agency Spotter connects marketing decision-makers with top marketing agencies across advertising, design, digital and 41 marketing services in all. Attracting small, medium and global enterprises, Agency Spotter is the world's top independent choice for agency search, selection, and agency management.​
Agency Spotter's website maps the marketing services industry landscape, making it easy to use more information, like verified client reviews, to build a shortlist and select the right agency partner. For more information or to search for a digital agency partner, visit agencyspotter.com.