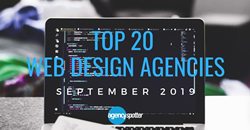 "They are a very professional team of people that truly care about every project and their clients." - Mathew Resnick​, Partner of Dorian A. Vergos & Company, LLC.
ATLANTA (PRWEB) September 18, 2019
The Top 20 Web Design Agencies Report evaluates more than 1,400 web design agencies based on Agency Spotter's proprietary research methodology. This report takes a broad look at content marketing agencies from around the world.
Insight on the Winning Web Design Agencies
65% are mid-sized agencies
30% are based in New York City, New York
30% are women-owned
15% are minority-owned
These top web design agencies work with some of the world's most renowned companies, including Bose, HSBC, Nissan, Swarovski, and Under Armour.
MAXBURST earned first place on this Top 20 Web Design Agencies Report. This agency is a Top-rated NYC Website Design & Digital Marketing Agency focused on creative and results-driven solutions. Their talented Long Island and NYC based team consist of web designers, programmers, marketing, and project management professionals.
At MAXBURST, they provide comprehensive website design, development and web marketing services for various-sized businesses and industries. This agency builds anything from responsive website designs for highly recognizable product brands to data-driven Web-based systems. Every web and marketing professional at MAXBURST understands the importance of being a client-first digital agency that places unparalleled value on building long-term relationships, providing superb customer service and developing high-quality web-based solutions.
Mathew Resnick​, Partner of Dorian A. Vergos & Company, LLC. states, "They are a very professional team of people that truly care about every project and their clients."
MAXBURST​'s clients include Canon, Capgemini, JetBlue, Stony Brook University​, and Transervice​.
SmartSites placed second on the Top Web Design Agencies Report. SmartSites is an award-winning website design and digital marketing agency, with a focus on search engine marketing (SEO & PPC). With an innovative vision and a lot of hard work, SmartSites quickly became one of America's fastest-growing companies.
Their relentless focus on their clients has led them to over 100 5-star reviews since their inception in 2011. This agency keeps its clients happy by delivering results that exceed their expectations. Some of SmarSites' clients include Application Associates, BlueWater Point Motel & Marina, Community Blood Services, and Ntiva.
Top Web Design Agencies
Rank Agency Name
1 MAXBURST
2 SmartSites
3 Ruckus
4 Duckpin
5 ClearSummit
6 CemtrexLabs
7 CodigoDelSur
8 Response Marketing
9 Bird Marketing Limited
10 Emerge Interactive
11 MonogramGroup
12 Brand & Mortar
13 Mighty Roar
14 UPQODE
15 Modo Modo Agency
16 Major Tom
17 The Garrigan Lyman Group
18 Tako Agency
19 Flightpath
20 Blue Fountain Media
About Agency Spotter
A B2B marketplace and SaaS provider, Agency Spotter connects marketing decision-makers with top marketing agencies across advertising, design, digital and 41 marketing services in all. Attracting small, medium and global enterprises, Agency Spotter is the world's top independent choice for agency search, selection and agency management.​
Agency Spotter's website maps the marketing services industry landscape, making it easy to use more information, like verified client reviews, to build a shortlist and select the right agency partner. For more information or to search for a digital agency partner, visit agencyspotter.com.