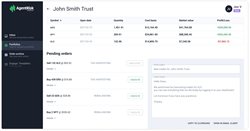 A revolutionary automated way to manage portfolios and clients through smart suggestions.
LOS ANGELES (PRWEB) February 07, 2020
Today, AgentRisk released "Overlay", a portfolio management and customer engagement platform for RIAs and wealth managers. Overlay is powered by the same algorithmic engine that AgentRisk is using in its flagship AgentRisk Wealth product, an automated investment platform for high-net-worth individuals.
One of the main features of Overlay is identifying issues in customer portfolios and suggesting trades for tax-loss harvesting, optimization, and rebalancing using the proprietary machine learning technology developed by AgentRisk.
A big differentiator compared to existing portfolio management solutions is Engage, a feature which allows advisors to communicate with their clients more effectively. With Engage, the system automatically generates personalized emails, which helps advisors maintain frequent communication points with their clients. This leads to higher customer satisfaction, improved customer retention, and increases in per-client AUM.
Overlay is custodian and broker-dealer agnostic, has no account minimums, and is free to use for a single portfolio.
AgentRisk CEO and founder Jon Vlachogiannis stated, "Wealth Management is not only about portfolio management. It is about communicating with the customer, addressing their needs, and making sure that you always know what's the latest in their personal situation. Until now, there hasn't been a platform that offers all these features in one place and with transparent pricing. That's the reason we built Overlay and we plan to keep improving the platform by listening to advisors' needs".
For more information about Overlay, please visit: overlay.agentrisk.com