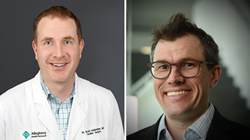 "We look forward to launching this effort to pioneer a safer and more effective solution for this common, critical health care need."
PITTSBURGH (PRWEB) August 31, 2020
Cardiothoracic surgeons at Allegheny General Hospital (AGH), part of Allegheny Health Network (AHN), are joining biomedical engineers from Carnegie Mellon University (CMU) to develop a new heart monitoring device designed to serve as an innovative alternative for cardiac patients who have undergone open heart surgery.
The AGH/CMU team was recently awarded a "Trailblazer" grant from the National Institutes of Health's National Institute of Biomedical Imaging and Bioengineering. The grants are awarded for "high-risk, high-impact" research in the exploration and development of new engineering technologies within the life sciences field.
AGH cardiac surgeon, Scott Halbreiner, MD, will serve as principal investigator of the three-year project alongside Christopher J. Bettinger, Ph.D, Professor of Material Sciences and Biomedical Engineering at CMU.
Following open heart surgery, clinicians typically thread a catheter within the pulmonary artery directly through a patient's heart. This step is taken to monitor heart function and blood flow in the days following the procedure. As many as 20 percent of patients who undergo open heart surgery may experience postoperative complications, underscoring the need to swiftly and accurately identify problems when they emerge.
The pulmonary artery catheter allows for immediate assessment and treatment while patients are recovering in the hospital. However, with the heart in a more vulnerable state, the invasive method of inserting the small tube can cause significant risks including fatal arrhythmias, perforation of blood vessels of the heart, bleeding into the airway, entanglement and clotting.
"If a patient is extremely sick or has several comorbidities, the pulmonary catheter may have to stay in for a prolonged period of time which can elevate the risk of complications or lead to worsened outcomes," said Dr. Halbreiner. "We look forward to launching this effort to pioneer a safer and more effective solution for this common, critical health care need."
As cardiac surgeons from the AHN Cardiovascular Institute join lead biomedical engineers from CMU at the drawing board, they will focus on creating a device that will be minimally invasive and that will match or improve the efficacy of the conventional technology and procedure.
"The key component that paves the way for future innovation is a biologically compatible strain sensor that can precisely detect minor variations in blood flow to signal impending complications," said Dr. Bettinger. "We're aiming to produce a sensor that will appropriately calibrate and adhere to heart structure and measure blood flow and blood pressure in real time with unmatched accuracy."
Since 2013, Highmark Health and AHN have partnered with CMU to envision and develop innovative healthcare solutions. Dr. Halbreiner serves as an adjunct professor at CMU and has a diverse background in biomedical engineering and device design.
"Dr. Halbreiner is uniquely suited for leading this exciting endeavor and we couldn't be more proud of his contributions to AHN and to our patients throughout the region," said George Magovern, Jr, MD, chair of the AHN Cardiovascular Institute. "Being awarded this grant only further underscores the value of our collaboration with CMU and our organization's strong legacy of advancing the frontier of innovation in cardiovascular medicine."
The work taking place as part of the NIH Trailblazer grant is preclinical and will be focused primarily on the device design and its effectiveness compared to conventional pulmonary catheters.
About the Allegheny Health Network:
Allegheny Health Network (AHN.org), a Highmark Health company, is an integrated healthcare delivery system serving the greater Western Pennsylvania region. The Network is composed of 12 hospitals, ambulatory surgery centers, Health + Wellness Pavilions, an employed physician organization, home and community-based health services, a research institute, and a group purchasing organization. The Network provides patients with access to a complete spectrum of advanced medical services, including nationally recognized programs for primary and emergency care, trauma care, cardiovascular disease, organ transplantation, cancer care, orthopedic surgery, neurology and neurosurgery, women's health, diabetes, autoimmune disease and more. AHN employs approximately 21,000 people, has more than 2,500 physicians on its medical staff and serves as a clinical campus for Drexel University College of Medicine and the Lake Erie College of Osteopathic Medicine.