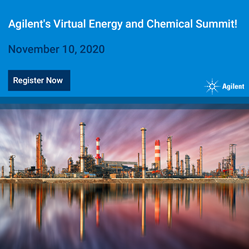 SANTA CLARA, Calif. (PRWEB) November 04, 2020
Agilent Technologies, a global leader in life science, diagnostics, and analytical laboratory technologies, will address the challenges in the analytical requirements of the oil, gas and chemical industries at the Virtual Energy and Chemical Summit being held November 10, 2020. To keep abreast of analytical developments and enhance the productivity of your lab, tap into the know-how of Agilent's product experts and application scientists.
Produced on LabRoots' robust platform, connecting across all desktop and mobile devices, the summit will present attendees with Agilent's custom products and services designed to provide user-friendly solutions with expert consultation.
Specific learning points at the Virtual Energy and Chemical Summit conference include:

Best practice for the D5769 GC/MS method for total aromatics analysis on an Agilent 8860/5977 GC/MS system.
Understanding the use of rotary valves in gas chromatography.
When and how hydrogen and nitrogen can be used as alternative carrier gases to helium for GC and GC/MS.
A look at ASTM D8322: a new test method that streamlines elemental analysis in crude and fuel oil.
To view the complete speaker list, agenda, and to register, click here.
About Agilent
Analytical scientists and clinical researchers worldwide rely on Agilent to help fulfil their most complex laboratory demands. Our instruments, software, services and consumables address the full range of scientific and laboratory management needs—so our customers can do what they do best: improve the world around us. Whether a laboratory is engaged in environmental testing, academic research, medical diagnostics, pharmaceuticals, petrochemicals or food testing, Agilent provides laboratory solutions to meet their full spectrum of needs. We work closely with customers to help address global trends that impact human health and the environment, and to anticipate future scientific needs. Our solutions improve the efficiency of the entire laboratory, from sample prep to data interpretation and management.
About LabRoots
LabRoots is the leading scientific social networking website, and primary source for scientific trending news and premier educational virtual events and webinars and more. Contributing to the advancement of science through content sharing capabilities, LabRoots is a powerful advocate in amplifying global networks and communities. Founded in 2008, LabRoots emphasizes digital innovation in scientific collaboration and learning. Offering more than articles and webcasts that go beyond the mundane and explore the latest discoveries in the world of science, LabRoots users can stay atop their field by gaining continuing education credits from a wide range of topics through their participation in the webinars and virtual events.