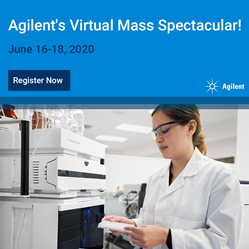 YORBA LINDA, Calif. (PRWEB) June 16, 2020
Agilent, a leader in life sciences, diagnostics and applied chemical markets, is thrilled to announce the launch of Agilent's Virtual Mass Spectacular! Mass Spectrometry has come a long way over the years and has brought powerful analytical capability to a wide range of applications. Although gathering in person at ASMS is not an option this year, all the Mass Spectacular content will still be shared with you during the virtual event.
The scientific program highlighting 20 renowned speakers, will consist of presentations by leading scientists using technology and diverse applications to solve complex laboratory and research challenges. This virtual event will also include live expert chats with Agilent product and application experts in an interactive environment, providing the ability to ask valuable questions and encounter thought-provoking discussions.
Attendees will be able to view the showcasing of latest innovations in mass spectrometry, software demos, panel discussions and additional information to keep labs running at peak efficiency. Participants can also view a vast array of posters—by scientists, for scientists.
Produced on LabRoots' robust platform, this interactive environment with an exhibit hall, poster hall and an Education Center, allows attendees to connect seamlessly across all desktop and mobile devices.
For more information or to register for the event, click here.
About Agilent
Agilent is a leader in life sciences, diagnostics and applied chemical markets. The company provides laboratories worldwide with instruments, services, consumables, applications, and expertise, enabling customers to gain the insights they seek. Agilent's expertise and trusted collaboration give them the highest confidence in our solutions.
About LabRoots
LabRoots is the leading scientific social networking website, and primary source for scientific trending news and premier educational virtual events and webinars and more. Contributing to the advancement of science through content sharing capabilities, LabRoots is a powerful advocate in amplifying global networks and communities. Founded in 2008, LabRoots emphasizes digital innovation in scientific collaboration and learning. Offering more than articles and webcasts that go beyond the mundane and explore the latest discoveries in the world of science, LabRoots users can stay atop their field by gaining continuing education credits from a wide range of topics through their participation in the webinars and virtual events.