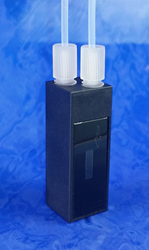 "FireflySci manufactures its flow through cells...to optimize the end-users' experience"
Brooklyn, NY (PRWEB) June 24, 2016
While the majority of commercial spectrophotometers and fluorometers use the z-dimension of 8.5 or 15mm, machines such as the Cary 5000 and the 6000i models are higher end machines that use the more unconventional z-dimension of 20mm. Z-dimension or beam height is the height of the spectrophotometer's light beam from the bottom of the cuvette holder.
FireflySci has developed several Agilent flow cell product lines both for Cary spectrophotometers and fluorometer machines. Sprucing up its Type 601 offerings, the company has added the 20mm z-dimension option for the 1, 2, 5 and 10mm selections and for the Type 605, the 0.1, 0.2, 1 and 2mm lightpaths now are available in 20mm z-dimension. Rounding this off, the Type 606 now features a 20mm height for the 5 and 10mm lightpath option. Already, several FireflySci customers have taken advantage of this increased versatility of its Agilent flow cell line.
When it comes to Agilent HPLC machines and fluorometers, FireflySci's 8830 HPLC Sub-Micro Flow Through Cell and the Type 603FL in the 10x2x2mm lightpath option are now availailable in the 20mm z-dimension.
FireflySci manufactures its flow through cells with a couple of major principles to optimize the end-users' experience. Firstly, to reduce cross-contamination and trapped pockets, most of the cells are made with oval-shaped flow chambers to reduce hard angles where debris can be trapped. Secondly, each FireflySci Agilent flow cell is designed with a dome-shaped cavity to reduce bubble formation. Bubbles can create interference in measurements and disrupt any continuous measurements. Finally, these cells are produced to withstand pressures of 5bars. By using screw-in, M6 threaded connectors and reinforced PTFE tubing, the cuvettes are more than robust enough to deal with any application that an Agilent flow cell requires. The M6 connector holds the PTFE tubing against the quartz on the interior of the flow cell, forming an airtight, leak-proof seal.
In the past year FireflySci continues to expand its profile of cuvettes and is currently in possession of the largest selection of cuvettes to be found on the market. Alongside its Agilent flow cell line, FireflySci has recently put out a full offering of colorimeter cells, dye laser cells, UHV cuvettes, HPLC flow cells and many others. On top of this, the company offers a customer service experience second-to-none and prides itself on being honest and proactive for its expanding customer base.