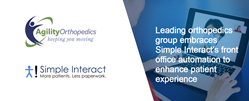 "Partnering with Simple Interact extends our commitment to an exceptional patient experience"
STONEHAM, Mass. (PRWEB) May 21, 2020
Agility Orthopedics, home to dedicated specialists providing patient-focused innovative orthopedic care across the North Shore and Greater Boston area, is pleased to announce a partnership with Dallas-based Simple Interact to further enhance the patient experience.
As one of the busiest group practices in the area, Agility Orthopedics is focused on speeding up patient workflows to enhance patient experience and give staff and providers more time to spend with patients. This will be accomplished by adopting (1) automated patient engagement and communications where appropriate, (2) digitized mobile-friendly online intake, consent, and image capture forms for patients to complete at home, (3) further usage of telehealth as well as onsite risk mitigation strategies to ensure safety for patients and staff during this time, and (4) proactive collection and handling of patient feedback and online ratings.
"Agility Orthopedics is one of the few orthopedic practices in the area that has remained open during the COVID-19 shut-down. We have continued to care for our community by quickly implementing telehealth and streamlining processes so that patients could continue their care and progress," said Andrew Desrosiers, Executive Director at Agility Orthopedics. "Partnering with Simple Interact elevates these efforts, extends our commitment to an exceptional patient experience and creates more opportunities for meaningful patient interaction. While the ways we deliver some care has changed during COVID-19, our promise to keep patients moving is still at the heart of every decision we make."
"We thank Andrew and his team for selecting Simple Interact and are excited to be working with a patient-focused and innovative organization like Agility Orthopedics," said Ravi Kalidindi, CEO at Simple Interact. "The COVID-19 pandemic has created a new normal that Healthcare facilities are quickly having to adapt to. More than ever, healthcare delivery is extending beyond the four walls. There is a need for more automation, more flexibility, and more configurability. Simple Interact is up to this challenge and proud to be part of the solution with Agility Orthopedics."
About Agility Orthopedics
For more than forty years, Agility Orthopedics has been a leading provider of outstanding innovative orthopedic care from complex orthopedic surgery to caring and effective rehabilitation. Our specialties include general orthopedics, sports medicine, hand and elbow surgery, shoulder surgery, spine surgery, joint replacement, pain management, physical therapy services, occupational therapy and orthobiologics. Patients have access to world-class physicians and a comprehensive team of providers who practice at our state-of-the-art facility in Stoneham, MA. We also have a location in Malden, MA. When it comes to patient care, our tagline "keeping you moving" is more than just three words; it's a promise that our entire team lives by.
About Simple Interact
Simple Interact is a cloud-based front office automation solution which helps healthcare providers acquire and retain more patients, while also automating repetitive tasks to efficiently service a high patient load. We address front office concerns such as: online reputation, HIPAA compliant patient intake forms, patient engagement including automated reminders, telehealth specific patient engagement, waitlist automation, and effective marketing of ancillary services. Our motto: More Patients. Less Paperwork. Our motto: More Patients. Less Paperwork.