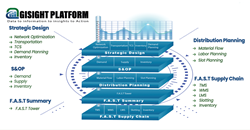 ATLANTA (PRWEB) April 16, 2021
Agillitics, an Atlanta based supply chain data analytics consultancy, has released a new website design with a targeted focus on user innovation. Potential customers can easily navigate the pages based on which digital supply chain problems they are experiencing. The website has a very streamlined and functional look and feel that is geared towards problem solving and quick solutions including live interactive demos of Agillitics' work including labor management material flow analytics.
The evolution of the site is well timed as Agillitics has also revised their customer engagement methods and simplified their service offerings. The new R.I.S.E., F.A.S.T., G.A.I.N. methodology is Agillitics' tiered system to qualify where enterprises are in their supply chain analytics journey, so they can support their client's transformation with their ample and flexible service offerings.
R.I.S.E. stands for Review Inside Supply Chain Execution, and serves to assess an enterprise's current analytics maturity, so Agillitics can create a custom roadmap for all supply chain enablement tracks.
F.A.S.T. or the Flexible Analytics Solution Tower can be implemented in 30 days, and in a modular approach, to achieve supply chain visibility in a timely and cost-effective manner. The tower consists of interactive dashboards that span all time horizons and decision windows. The F.A.S.T. tower dives into several areas like Strategic Design, S&OP and Total Cost to Serve.
The third field of the new client engagement methodology is G.A.I.N. or Grow, Adopt, Improve, Nurture. Agillitics reserves this phase for clients who may have fallen behind on reporting, need continual maintenance for new requests from operations, or ongoing data science as a service.
The website is live and the team at Agillitics has put heavy focus on usability and demonstrative nature, so it is a great place for potential clients and others interested in their business to go and learn how Agillitics can help any enterprise improve supply chain practices and evolve along their analytics journey. For more information, contact Agillitics at info@agillitics.com or chat with their team on their new website at https://agillitics.com/.