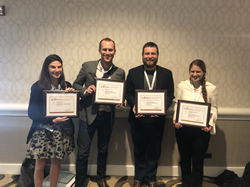 CHICAGO (PRWEB) June 17, 2019
Business-to-business media company Aging Media Network has received recognition in several categories from the Specialized Information Publishers Association of SIIA (SIPA) in the association's annual awards.
The awards, presented June 4 during SIPA's 43rd Annual Conference at the Capital Hilton in Washington, D.C., recognize excellence among publishers in editorial, marketing and product success.
Aging Media Network won or placed in the following categories with the following works:
BEST AWARDS PROGRAM MARKETING — First Place
Senior Housing News Architecture & Design Awards
BEST NEW SUCCESS STORY — Second Place
DISHED Senior Living Dining Event
BEST INTERVIEW OR PROFILE OF SOMEONE IN YOUR INDUSTRY — Second Place
The Leadership Series: Cindy Baier, CEO of Brookdale Senior Living
BEST SPOT NEWS OR SINGLE NEWS ARTICLE: HEALTH CARE/REGULATORY/EDUCATION — Third Place
Senior Care Centers Files for Bankruptcy, Blaming 'Expensive Leases'
The awards span Aging Media Network's Skilled Nursing News and Senior Housing News publications and spotlight the company's editorial, marketing and product accomplishments.
"We were honored to place and win in several of SIPA's awards categories this year," said Aging Media Network Co-Founder and President John Yedinak. "After launching our fifth vertical in 2019, we appreciate the recognition among our industry peers for the work we are doing in our specialized coverage area of aging services. We continue to grow based on the success of our daily news platforms, with new products and marketing initiatives that include awards programs, live events and more."
"We congratulate all of the winners on their exceptional content, successful marketing initiatives, impressive product success and exemplary rising star leadership," said Nancy Brand, SIPA's managing director. "The winning entries truly embodied the spirit of the awards, which is to continue to exceed industry standards and set new benchmarks for performance."
About Aging Media Network
Aging Media Network is a boutique media company covering the $7.6 trillion business of senior housing and care. With fresh, daily content, modern design and industry expertise, we've built a community of industry executives and participants for our clients to connect with. AMN is the publisher of Senior Housing News, Home Health Care News, Skilled Nursing News, Hospice News and Reverse Mortgage Daily. Learn more at http://www.AgingMedia.com.
About SIPA
SIPA (the Specialized Information Publishers Association of SIIA) represents the interests of niche publishers and industry partners, and is the premier source of best practices and peer collaboration for the specialized information profession. Since 1977, SIPA has been providing resources and networking opportunities to the member community that help publishers grow and profit, increase efficiency and improve operations. For more information, visit http://www.siia.net/SIPA.