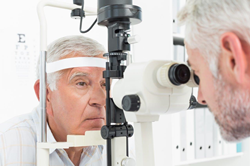 Widespread diminished eyesight would thus be not only a social and recreational handicap, but, given the prevalence of app- and phone-based workplace tools, a danger to the overall economy.
CLEARWATER, Fla. (PRWEB) January 27, 2020
A new study by the University of Michigan's Kellogg Eye Center shows that 92 percent of Medicare beneficiaries wear eyeglasses. Eyeglasses and contact lenses, however, are not covered by Medicare, leaving the aging population on their own to deal with the cost of vision correction.(1) "This fact says Dave Rich, CEO of Ensurem LLC, means people need to be aware of their options regarding vision care." Rich, whose company is an online multi-carrier insurance brokerage, adds, "What we're seeing with Medicare beneficiaries age 65 or older, in the future, we may see across the entire society."
Beginning in their early to mid-forties, according to the American Optometric Association, many adults begin to experience presbyopia. This perfectly normal condition causes them to have difficulty seeing clearly at close distance, especially when reading or working at a computer.(2) The oldest members of what is currently the largest generation in the United States, millennials, are now 39 and will soon begin to experience middle-age vision issues. Members of Generation X, born between 1965 and 1980, are now between 40 and 55 and already dealing with these problems.(3)
The demographic situation, notes Rich, leads to the confluence of an aging population with a dramatically increased reliance on small-screen (and thus small-type) digital devices, both for recreation and communication. A new study by St. Louis-based senior living community provider Provision Living, shows that the average millennial spends 5.7 hours per day interacting with a smartphone. A startling 13% of millennials say they spend more than 12 hours per day on their phones.(4)
Widespread diminished eyesight would thus be not only a social and recreational handicap, but, given the prevalence of app- and phone-based workplace tools, a danger to the overall economy. One-way Americans can protect themselves, a recent study suggests, is to modify their diets. Data from the School of Public Health and Health Professions at the State University of New York at Buffalo suggest that abstaining from red meat and fatty food might help prevent later-life vision loss.(5) On another front, integrating eye care into overall health management is recommended as a way to facilitate diagnosis and appropriate care.(6)
Meanwhile, Rich suggests that today's Medicare beneficiaries seek informed guidance about their options to supplement Medicare with vision benefits. "There are a lot of choices," says Rich, "and your options may vary according to your unique needs. For example, while Original Medicare doesn't cover vision benefits, a beneficiary has options: either switch to a Medicare Advantage plan that includes vision or purchase a separate vision plan as a supplement to their Original Medicare.
An individual could determine which option is right for them and make an educated decision based on their specific needs. If you are enrolling in Medicare and are concerned about getting the vision care you need—or any other kind of care—I strongly recommend that you work with a multistate, multi-carrier marketplace like Ensurem to make sure you understand your options and are able to make the right choice."
About Ensurem:
Ensurem, headquartered in Clearwater, FL, is a leading technology and product distribution company serving carriers and consumers within the massive U.S. senior market. The company provides end-to-end solutions for carriers, including product development, digital marketing, and consumer-centric front ends and back end. For more information, please visit Ensurem.com
1. Kirkendoll, Shantell, "Study: Medicare Coverage Limits Put Seniors' Vision Needs at Risk," University of Michigan Health Blog, July 22, 2018.
2. "Adult Vision: 41 to 60 Years of Age," American Optometric Association, 2019.
3. Dimock, Michael, "Defining generations: Where Millennials end and Generation Z begins," Pew Research Center, January 17, 2019.
4. Brown, Eileen, "Americans spend more time on their smartphones than they think," ZDnet, April 28, 2019.
5. Gordon, Serena, "Fatty Diets Tied to Leading Cause of Vision Loss in Seniors," HealthDay, December 26, 2019.
6. Klunk, Elizabeth, "Comprehensive managed vision care is more than mere 'medical management,'" MedCity News, September 20, 2019.