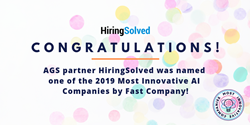 "Inclusion in the 2019 Most Innovative Companies is a great achievement for HiringSolved. Through our partnership, we have seen firsthand how committed the HiringSolved team is to innovation and breaking ground." — Randy Gulian, Executive Vice President at AGS
HANOVER, Md. (PRWEB) February 26, 2019
Allegis Global Solutions (AGS), a leading provider of global talent acquisition and workforce solutions, is proud to celebrate the recognition of AGS partner HiringSolved as one of the top Most Innovative AI Companies by Fast Company for 2019.
For more than a decade, Fast Company has recognized organizations for transforming industries and shaping society through technology with the Most Innovative companies list.
"Inclusion in the 2019 Most Innovative Companies is a great achievement for HiringSolved. Through our partnership, we have seen firsthand how committed the HiringSolved team is to innovation and breaking ground, so it is wonderful to see them be recognized for that commitment." — Randy Gulian, Executive Vice President at AGS
"To be recognized as one of the top AI companies in the world is powerful validation because we bet our company on AI technology 7 years ago, and nobody believed it would work. Today, many of the largest and best companies in the world are calling on us to help them apply advanced automation to their hiring challenges." — Shon Burton, Chief Executive Officer at HiringSolved
For more information on Allegis Global Solutions and its industry-leading services, visit http://www.allegisglobalsolutions.com or follow @AllegisGlobal on Twitter.
About Allegis Global Solutions
Allegis Global Solutions is a leader in global talent solutions. To date, we support clients in more than 60 countries through regional hubs, matching our great people with businesses seeking to optimize their permanent and contingent workforce. We deliver scalable, flexible and customized solutions, shaped around your unique business requirements and culture. We draw upon decades of industry expertise and market insight to design strategies that work. We develop innovative tools, products and processes that deliver the results you seek. And we do all this better than anyone else.
Our passion for talent is the driving force behind everything we do. We live to match exceptional organizations with outstanding people. By creating a culture devoted to great talent, we can deliver client-focused solutions that make a difference for your business.