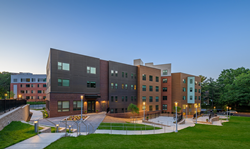 As we develop our properties, we make each decision with affordability, sustainability and quality in mind, and we're proud of creating communities that residents love to call home.
ARLINGTON, Va. (PRWEB) December 29, 2020
Nonprofit affordable housing developer AHC Inc. has been recognized by Urban Land Institute (ULI) Washington with the 2020 Excellence in Housing Affordability award, which was announced at ULI Washington's 2020 Trends Conference. AHC Inc. was honored for its accomplishments in the design and development of its St. James Plaza apartment complex in Alexandria, VA.
The Trends Conference Awards highlight innovative and exceptional developments that enrich neighborhoods in the Metropolitan Washington Region. AHC Inc. was selected from among 40 different nominees. All nominated projects embody excellence and creativity across a number of categories, including developmental approach, land use economics, access and mobility, sustainability, and community and culture.
AHC Inc.'s St. James Plaza was distinguished for its innovative design, zone planning, and local partnerships. The apartment community includes a mix of efficiencies, one-, two-, and three-bedroom apartment homes for households earning up to 60% of the area median income.
The $32 million development transformed a three-acre parcel of land owned by a long-time church, St. James Methodist Church, into a vibrant mixed-income, mixed-use community.
The site also includes a 2,300-square-foot preschool for 50 children. Operated by nonprofit The Campagna Center, the school is located in the first floor of St. James Plaza. Thirty-one market-rate townhomes, developed by Craftmark, further integrate the development into the existing single-family neighborhood.
St. James Plaza's exterior includes a variety of earth-toned colors and textures that balance the building's clean contemporary silhouettes and sharp angles. Inside the apartments, oversized windows add an airy, open feeling to the apartments, which also include wood-toned vinyl-plank floors and contemporary finishes. Other amenities include a play area, community room, fitness center, and underground parking.
The building was also designed to earn the EarthCraft Platinum certification, the highest multifamily green building award.
Development partners include the City of Alexandria, Capital One Bank, Hudson Housing Capital, Low Income Investment Fund (LIIF), NeighborWorks and NeighborWorks Capital. Designed by Cunningham-Quill Architects, the five-story building was constructed by Harkins Builders.
"It's a great honor to be recognized among so many innovative developments in the metro-DC area," said John Welsh, VP of Multifamily Group at AHC Inc. "As we develop our properties, we make each decision with affordability, sustainability and quality in mind, and we're proud of creating communities that residents love to call home."
Michael Werner, Senior VP of AHC Management, added: "This accomplishment is a testament to the effective collaboration between AHC Inc. and AHC Management to offer successful, well-integrated and well-managed affordable housing for our residents."
To learn more about St. James Plaza and the Excellence in Housing Affordability Award, watch UCI Washington's video here.
About AHC Inc.
Founded in 1975, AHC Inc. is a nonprofit developer of affordable housing that provides quality homes and education programs for low- and moderate-income families. Based in Arlington, VA, AHC has developed more than 7,500 apartment units in 50+ properties in Virginia, Maryland and Washington, D.C. AHC's Resident Services program reaches 3,000 children, teens, adults and seniors each year through on-site education and social service programs and activities. For more information, visit https://www.ahcinc.org/.
About AHC Management
AHC Management is a premier full-service property management company serving affordable-living communities in Virginia and Maryland. A subsidiary of nonprofit affordable housing developer AHC Inc., for over 20 years AHC Management has been serving thousands of families in more than 4,500 units across 33 properties. AHC is certified by Virginia Housing Development Authority and is a licensed Community Association Management Company in the Commonwealth of Virginia. For more information, visit: http://www.ahcmgmt.com.