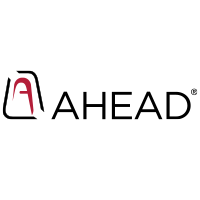 CHICAGO (PRWEB) November 26, 2018
WHAT:
With its attainment of the VMware Cloud on AWS Solution Competency, AHEAD, a leading provider of IT consulting and enterprise cloud solutions, is working with AWS to facilitate the rapid integration of clients' on-premises VMware environment with the cloud.
As thought leaders in this space, AHEAD along with AWS will co-host a webinar titled, "Straight Talk: When Is VMware Cloud On AWS Right For You?" The joint webinar is designed to aid IT professionals in thinking through their approach to application transition, operational inconsistencies and incongruent networks—as well as provide insight on VMC use cases for disaster recovery and M&A integration.
During the webinar, attendees will learn:

How to prepare and validate their environment for integrating VMC
The right circumstances and expected benefits of deploying various VMC use cases
The value of deploying a right-sized VMC environment based on your application needs
Speakers include:
Shea Lutton - Senior Cloud Architect, Amazon Web Services
Lutton is a results-oriented technology builder and innovator with a proven track-record of solving complex business problems. As an Amazon Web Services (AWS) senior cloud architect, he is responsible for helping large enterprises adopt AWS, rethink how technology solutions are delivered and helping Amazon define the next generation of services.
Eric Shanks - Solutions Principal, Cloud Practice, AHEAD
As a solutions principal at AHEAD, Shanks is responsible for establishing and maintaining delivery standards for AHEAD's cloud practice and related IP development. He has more than 15 years of data center experience, with a focus in hybrid cloud and automation, and has obtained some of the industry's highest distinctions including two VMware Certified Design Expert (VCDX #195) certifications as well as many others across a variety of solutions including Microsoft, Cisco, Amazon Web Services and others.
WHO:
This webinar is free to IT leaders and practitioners considering or preparing their AWS environment for adoption of VMware Cloud on AWS.
IT professionals who should attend include: CTOs, CIOs, CISOs, VPs of IT, IT Managers, IT Directors, IT Supervisors, IT Administrators, Software Developers, Software Development Managers and System Architects.
WHEN:
Wednesday, Dec. 5, 2018 at 12:00 P.M. – 1:00 P.M. CT
WHERE:
Online: https://bit.ly/2K4mw7E
About AHEAD
AHEAD transforms how and where enterprises run applications and infrastructure. From strategic consulting to implementation and managed services, AHEAD creates tailored solutions at all stages of the enterprise cloud journey. Headquartered in Chicago, AHEAD maintains offices in Michigan, Minnesota, North Carolina, Ohio and Wisconsin. To learn more, visit http://www.ThinkAhead.com and follow AHEAD on Twitter at @ThinkAheadIT.