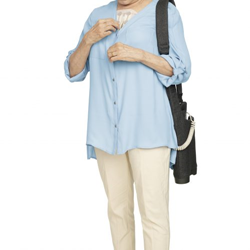 "Mesothelioma is a devastating diagnosis. We are thrilled to offer our patients Optune Lua, a treatment that can potentially extend their lives and improve their quality of life." Dr. Zachary Horne, radiation oncologist, Allegheny Health Network..
PITTSBURGH (PRWEB) September 03, 2020
AHN Cancer Institute is First in Pittsburgh Region to Offer Optune Lua, a Wearable, Non-Invasive Treatment for Mesothelioma
Terry O'Keefe and his wife Diane love to hike and travel in their RV. The Grove City couple was hiking in the Midwest a year and a half ago when Terry began experiencing alarming symptoms: shortness of breath, racing heart, fainting.
Back in Pennsylvania, doctors made the diagnosis: malignant pleural mesothelioma, a rare and aggressive cancer that attacks the lining of the lungs, abdomen and heart. Median survival is only about one year. Mesothelioma is strongly connected to asbestos exposure, and Terry was exposed to the substance during his years working as a boiler operator in the U.S. Navy.
Terry underwent surgery and chemotherapy, both standard treatments for mesothelioma. Then Zachary D. Horne, MD, a radiation oncologist who practices at Allegheny Health Network Cancer Institute's center in Beaver County, as well as at Allegheny General and West Penn hospitals, offered Terry a chance to try a new option.
Optune Lua, a wearable, portable device that delivers low-grade electrical fields to the tumors, is the first new FDA-approved treatment for mesothelioma in 15 years. AHN Cancer Institute is the only center in the region offering Optune Lua for mesothelioma, and Terry was the second patient in Pennsylvania to receive the treatment.
"Mesothelioma is a devastating diagnosis. We are thrilled to offer our patients Optune Lua, a treatment that can potentially extend their lives and improve their quality of life," Dr. Horne said. "The treatment is non-invasive and delivers treatment directly to the tumor, and so most patients experience only minor side effects."
Optune Lua users can continue with normal daily activities during treatment. Small adhesive patches called transducer arrays are placed on the patient's chest and back, and are connected by wire to a battery that the patient carries either in a backpack or across the shoulder. The electrical fields work by disrupting the process by which cancer cells make copies of themselves.
In a clinical trial of 80 patients with unresectable or metastatic and previously untreated malignant pleural mesothelioma who were treated with Optune Lua plus chemotherapy, median survival was 18.2 months, and 97 percent of patients saw their mesothelioma either shrink or stop growing.
As for Terry, the lower part of his lung tumor has completely disappeared, while the upper part has grown only slightly. Dr. Horne is adjusting the patches so that more of the electrical fields are directed to the upper lung, and doctors are also adding a newer immunotherapy to Terry's regime. Terry and his wife aren't back to RVing yet, but are enjoying short hikes near their home in the company of their two dogs
"We look forward to providing Optune Lua as a treatment option for additional patients who may otherwise feel that they have little hope for the future," Dr. Horne said.
The Optune Lua therapy is typically not covered by insurance plans at this time. Novocure, the manufacturer, however, has financial assistance available for qualified patients.
About Allegheny Health Network – and the AHN Cancer Institute
Allegheny Health Network, a Highmark Health Company, is a western Pennsylvania-based integrated healthcare system that serves patients from across a five-state region that includes western Pennsylvania and the adjacent regions of Ohio, West Virginia, Maryland, and New York. The Network's Cancer Institute employs more than 200 physicians and 500 oncology professionals who provide a complete spectrum of oncology care at 24 affiliated oncology clinics, including access to state-of-the-art technologies and new therapies being explored in hundreds of clinical cancer trials. The Cancer Institute has the only cancer program in the Pittsburgh region accredited as an Integrated Network Cancer Program by the American College of Surgeons Commission on Cancer, and its radiation oncology program is the largest in the country accredited by the American Society for Radiation Oncology. AHN Cancer Institute is a Quality Oncology Practice Initiative certified practice, and is accredited by the Foundation for Accreditation of Cellular Therapy, National Accreditation Program for Breast Centers and the National Accreditation Program for Rectal Cancer. AHN also has a formal affiliation with the Sidney Kimmel Comprehensive Cancer Center at Johns Hopkins, one of the nation's 41 comprehensive cancer centers designated by the National Cancer Institute, for research, medical education and clinical services.
About Optune Lua
Optune Lua is a noninvasive, antimitotic cancer treatment for MPM. Optune Lua delivers Tumor Treating Fields to the region of the tumor.
Tumor Treating Fields is a cancer therapy that uses electric fields tuned to specific frequencies to disrupt cell division, inhibiting tumor growth and causing affected cancer cells to die. Tumor Treating Fields does not stimulate or heat tissue and targets dividing cancer cells of a specific size. Tumor Treating Fields causes minimal damage to healthy cells. Mild to moderate skin irritation is the most common side effect reported. Tumor Treating Fields is approved in certain countries for the treatment of adults with glioblastoma and in the U.S. for mesothelioma, two of the most difficult cancer types to treat. The therapy shows promise in multiple solid tumor types – including some of the most aggressive forms of cancer.
Caution: Federal law restricts this device to sale by or on the order of a physician. Humanitarian Device. Authorized by Federal Law for use in the treatment of adult patients with unresectable, locally advanced or metastatic, malignant pleural mesothelioma concurrently with pemetrexed and platinum-based chemotherapy. The effectiveness of this device for this use has not been demonstrated.