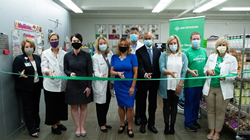 "Most recently, the prevalence of covid-19 has placed an even stronger emphasis on how fragile food security is for Americans and how vulnerable many families can be, especially with the loss of a primary household income."
JEFFERSON HILLS, Pa. (PRWEB) September 22, 2020
Allegheny Health Network (AHN) is pleased to announce the opening of its latest Healthy Food Center at Jefferson Hospital, marking another expansion milestone for the one-of-a-kind program in the Greater Pittsburgh area. On Friday morning, representatives from AHN Jefferson and the AHN Center for Inclusion Health joined Healthy Food Center employees to cut the celebratory ribbon to the new space.
The Healthy Food Center acts as a "food pharmacy" where patients who lack access to food can receive nutritious food items, education on disease-specific diets and additional resources for other social challenges they may face. The first Center debuted in 2018 at West Penn hospital and in January, a second location opened at Allegheny General Hospital; to date, both locations have provided patients and their families with more than 65,000 meals.
Food insecurity refers to the lack of consistent access to nutritious foods for an active, healthy life. According to Feeding America, since the start of the covid-19 pandemic, an estimated additional 17 million people will face food insecurity in 2020—raising the total to approximately 54 million Americans.
"Most recently, the prevalence of covid-19 has placed an even stronger emphasis on how fragile food security is for Americans and how vulnerable many families can be, especially with the loss of a primary household income," said Stuart Fisk, CRNP, Director, AHN Center for Inclusion Health. "With the proven success of the Healthy Food Center at West Penn and AGH, we're pleased to even further expand the program in the region and positively impact families during an extremely challenging time."
AHN clinicians screen patients for food insecurity by asking if they've been worried about adequate food supply in the last 12 months or if they've experienced financial hardships preventing them from purchasing enough monthly groceries for the entire household.
Patients who receive a referral from a medical provider can visit the Center – located in the hospital's Medical Office Building (Suite 200) – to pick up prepacked boxes of fresh produce and nutritious items. The boxes typically consist of roughly two to three days' worth of food for all members of the household, and patients may visit once every 30 days for six months as part of their referral.
"With our robust clinical programs, including one of the busiest emergency departments in southwestern Pennsylvania, AHN Jefferson hospital is uniquely positioned to make a difference for many food-insecure families who live in the communities we serve," said Chong Park, MD, president of AHN Jefferson. "On an annual basis, we see more than 50,000 patients in the emergency department alone, and we screen each for social challenges that could impact their overall health. Our recent reports estimate that nearly 60 percent of these patients face critical social barriers to health, with food insecurity and transportation cited most often."
Patients at Jefferson's ED are screened through a program established in 2018 coined the 'Front Door Initiative' (FDI). Made possible through a $1 million grant from the Jefferson Regional Foundation, the FDI mobilizes AHN social workers to screen for social and economic barriers and connect at-risk patients to the appropriate resources through formalized partnerships with organizations like RubyRide, the Center for Integrative Health at Duquesne University and the Squirrel Hill Health Center.
"Chronic health issues like Type 2 diabetes, heart disease and obesity are only further exacerbated when patients report social risk factors, especially food insecurity. During a pandemic, patients with compromised immune systems also increase their likelihood for more severe health complications without proper food supplies," said Madhusudan Menon, MD, president of AHN Jefferson medical staff. "Food is medicine and by offering an additional access point to nutritious food items, we're vastly improving the health and overall quality of life for the patients and communities we serve."
Due to updated covid-19 measures, registered dieticians at the Center will now work with patients over the phone to identify their needs and shop on their behalf. Patients can then schedule a time to pick up prepackaged groceries, or request a delivery if transportation isn't available. The Healthy Food Center will also offer virtual sessions with nutritional counselors to discuss shopping on a budget, recipe creation, food education and more.
The Healthy Food Center at AHN Jefferson is supported by its many local partners including Bhutanese Community Association of Pittsburgh, Squirrel Hill Health Center, Jefferson Community Collaborative and the Clairton Produce Market Place, as well as 412 Food Rescue, Gateway Health, Greater Pittsburgh Community Food Bank, Highmark, The Food Trust and Travelers Aid of Pittsburgh.
Link to b-roll: https://f.io/Gij-4w9J
Link to pictures: https://f.io/I3ElrgK_
###
About the Allegheny Health Network:
Allegheny Health Network (AHN.org), a Highmark Health company, is an integrated healthcare delivery system serving the greater Western Pennsylvania region. The Network is composed of 12 hospitals, ambulatory surgery centers, Health + Wellness Pavilions, an employed physician organization, home and community-based health services, a research institute, and a group purchasing organization. The Network provides patients with access to a complete spectrum of advanced medical services, including nationally recognized programs for primary and emergency care, trauma care, cardiovascular disease, organ transplantation, cancer care, orthopedic surgery, neurology and neurosurgery, women's health, diabetes, autoimmune disease and more. AHN employs approximately 21,000 people, has more than 2,500 physicians on its medical staff and serves as a clinical campus for Drexel University College of Medicine and the Lake Erie College of Osteopathic Medicine.