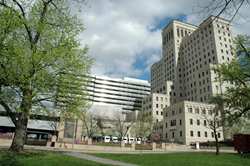 The treatment of amyloidosis demands a team-based approach. We have developed pathways and protocols to enable a faster diagnosis that allows treatment to start as quickly as possible.
PITTSBURGH (PRWEB) August 30, 2018
Physicians at Allegheny Health Network (AHN) believe a novel multidisciplinary approach to patient care, together with emerging diagnostic and therapeutic advances, can help to transform a rare disease called amyloidosis from a terminal illness into a manageable one.
Amyloidosis is a familiar disease to the people of western Pennsylvania, claiming the lives of three prominent politicians in the region in a span of less than 15 years: Pittsburgh mayor Richard S. Caliguiri in 1988, Erie mayor Louis Tullio in 1990, and Pennsylvania Governor Robert Casey Sr. in 2000. This complex illness causes the body to deposit defective proteins into various organs, including the heart, liver, kidney, skin, eyes, lungs, and nervous system. Once there, these proteins ultimately disrupt normal organ function and can ultimately cause multi-organ failure.
The new Amyloidosis Program at AHN will draw upon the amyloid expertise of providers across multiple subspecialties to develop individualized treatment plans for patients. Thanks to increasingly sophisticated diagnostic testing and enhanced clinical awareness about the disease, this historically elusive condition can now be diagnosed in a timelier and more accurate fashion.
"Since amyloidosis is a systemic illness that can affect the entire body, not just the heart, it follows that the treatment of amyloidosis demands a team-based approach," said AHN cardiologist Craig Alpert, MD, an advanced heart failure specialist who is overseeing the AHN Amyloidosis Program. "As a result, we have built a team that brings together not only cardiologists specializing in heart failure and cardiac imaging, but also hematologists, nephrologists, neurologists, pathologists, and palliative care providers, plus nurses, pharmacists, genetic counselors, social workers, and nutritionists. We have developed pathways and protocols to enable a faster diagnosis that allows treatment to start as quickly as possible."
Light chain (AL) and transthyretin (ATTR) are the two main types of amyloidosis that affect the heart. AL amyloidosis is due to the overproduction and misfolding of antibody light chain fragments produced in the bone marrow. Without aggressive treatment, it has a devastating prognosis, with an average survival of less than 6 months. ATTR amyloidosis results from the misfolding of the liver-derived protein transthyretin (previously called prealbumin). The misfolding of the transthyretin protein can be driven either by a hereditary process that produces mutant proteins (ATTRm) or by the loss of quality-control as our bodies age (ATTRwt).
ATTR amyloidosis has a slightly better prognosis, with survival averaging 4 years. In both cases, the poor prognosis reflects both the historical delay in diagnosis as well as the lack of effective treatments once the diagnosis had been made. Fortunately, better diagnostic testing and new therapies have the ability to improve prognosis in a profound way.
"The diagnosis of cardiac amyloidosis is often missed, incomplete, or incorrect," said Srinivas Murali, MD, co-chair of the AHN Cardiovascular Institute. "Because cardiac amyloidosis can have so many nonspecific symptoms, the average patient will see multiple doctors over several years before a diagnosis is confirmed. Timely and appropriate diagnosis drastically affects the treatment options and the patient's prognosis. It is therefore critical to have a dedicated team to manage this complex disease correctly."
Tools used to diagnose cardiac amyloidosis include laboratory and imaging tests, such as ultrasound, MRI, and nuclear studies; as well as biopsies to examine the affected organ under the microscope. A biopsy can confirm the presence of amyloid in the organ and also identify the specific protein. Specialists may do the biopsy on the bone marrow or on the heart via a cardiac catheterization. Other affected organs, including the kidneys, nerves, and even the skin, may also be biopsied.
Once diagnosed, physicians determine the appropriate course of care dictated by the type of amyloidosis the patient has.
"For AL amyloid, we will typically turn to chemotherapy for treatment since it can limit the spread of these cells," said AHN hematologist Santhosh Sadashiv, MD. "This allows us to destroy the abnormal light chain producing 'factories.' Novel chemotherapy regimens are safer and work quickly and effectively. Certain patients may also be candidates for autologous stem cell transplantation, where a person's own hematopoietic stem cells are harvested from their circulating blood and later re-infused back into the same individual after treatment."
For ATTR amyloidosis, a number of promising new amyloid-specific treatments recently have been approved by the FDA and soon will be available to patients. AHN is participating in an International ATTR cardiac amyloidosis registry and is also developing a database to track patients and become part of the national Amyloidosis Research Consortium. These research efforts will enable AHN to offer patients access to the latest clinical trials and investigational therapies.
Progressive heart failure or deadly heart arrhythmias often pose the greatest risk for patients with ATTR or AL amyloidosis. In addition to typical heart failure management, new amyloid-specific medical therapies have shown great promise. In some cases, mechanical circulatory support, such as a left ventricular assist device (LVAD), or heart transplantation may even be considered.
"While rare, ATTR amyloidosis is a disease that we believe is going to become more prevalent than what has been previously reported," said George Small, MD, an AHN neurologist. "It is a disease with deadly consequences because it causes both peripheral neuropathy and autonomic neuropathy, and we have historically underestimated its prevalence. Because amyloidosis has been elusive, it can be intimidating. We are working to change that."
Members of the AHN Amyloidosis Program include: Dr. Alpert, Dr. Murali, and their cardiology colleagues Raymond Benza, MD; Robert Biederman, MD; Azam Hadi, MD; Manreet Kanwar, MD; Andrew Pogozelski, MD; Indu Poornima, MD; and Amresh Raina, MD; Dr. Sadashiv and his fellow hematologists Salman Fazal, MD, and Prerna Mewawalla, MD; Dr. Small and his neurology colleagues James Valeriano, MD, and Sandeep Rana, MD; nephrologist Luis Ortega, MD; pathologist Mark Bunker, MD; and palliative care specialists Elizabeth Chow, MD; Jeff Gordon, MD; and Tara Orgon-Stamper, DNP, CRNP. In addition, the AHN Amyloidosis Program also includes program coordinator Alysa Pivik, BSN, RN; pharmacists Brooke Stanton, PharmD, and Nate Verlinden, PharmD, and nutritionist Nonnie Toth, RD.
###
About the Allegheny Health Network
Allegheny Health Network (http://www.AHN.org), a Highmark Health company, is an integrated healthcare system serving the greater Western Pennsylvania region. The Network is composed of eight hospitals, including Allegheny General Hospital, its flagship academic medical center in Pittsburgh, Allegheny Valley Hospital in Natrona Heights, Canonsburg Hospital in Canonsburg, Forbes Hospital in Monroeville, Jefferson Hospital in Jefferson Hills, Saint Vincent Hospital in Erie, West Penn Hospital in Pittsburgh and Westfield Memorial Hospital in Westfield, NY. The Network provides patients with access to a complete spectrum of advanced medical services, including nationally recognized programs for primary and emergency care, cardiovascular disease, cancer care, orthopedic surgery, neurology and neurosurgery, women's health, diabetes and more. It also is home to a comprehensive research institute; Health + Wellness Pavilions; an employed physician organization, home and community based health services and a group purchasing organization. The Network employs approximately 19,000 people, has more than 2,400 physicians on its medical staff and serves as a clinical campus for Drexel University College of Medicine, Temple University School of Medicine, and the Lake Erie College of Osteopathic Medicine.