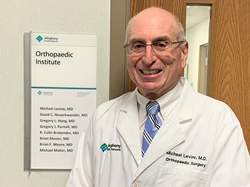 "The COVID-19 pandemic fueled a demand for more convenient access to advanced, high-quality medical and surgical care," explained Dr. Michael Levine
MONROEVILLE, Pa. (PRWEB) February 02, 2023
Orthopaedic surgeons at Allegheny Health Network's (AHN) Monroeville Surgery Center have become the first in the Pittsburgh region to perform outpatient hip replacement in the convenience and comfort of a stand-alone community ambulatory surgery facility, greatly improving the overall surgical experience for patients.
AHN joint reconstruction specialist Michael Levine, MD, started performing same-day partial and total hip replacement procedures at the AHN Monroeville Surgery Center in October. AHN's Orthopaedic Institute also began the region's first ASC outpatient knee replacement surgery program at the same facility in September 2021, and the team has documented positive patient experiences and outcomes among both groups.
AHN Monroeville remains the only stand-alone surgery center in the Pittsburgh region where outpatient joint replacement surgery for both hip and knees is performed.
"The COVID-19 pandemic fueled a demand for more convenient access to advanced, high-quality medical and surgical care," explained Dr. Levine. "Undergoing an outpatient knee and hip replacement surgery in a close-to-home facility like our Monroeville Surgery Center is a great option for eligible patients because it allows them to return home on the same day of their operation and jumpstart the recovery process in a safe and comfortable environment."
The benefits of same-day hip and knee replacement surgery include a lower risk of infection and a potential quicker return to normal activities, according to Dr. Levine. Doctors at the Hospital for Special Surgery and Rothman Orthopaedic Institute in New York also found no increased risk of complication rates or readmission rates for patients who were discharged the same day compared to patients who stayed in the hospital for the same procedure.
"The patient experience is truly second to none with this program, from the ease of access to the facility and our free parking to the expedited registration, surgical prep, and discharge process. We are creating a new standard of care excellence for our patients and their families, while also advancing a more cost- effective model for procedures that millions of people undergo each year," Dr. Levine said.
Patients must be in good health with no major underlying health conditions and have an optimal recovery environment at home to be eligible for the outpatient joint replacement procedures. After patients are discharged, AHN's physical and occupational therapy team meets them at their homes to ensure they are set up for recovery. Therapists then return to the patient's home every few days for the first few weeks to help manage the patient's initial rehabilitation process. In general, joint replacement patients will be 90-95% recovered in six to eight weeks post-operation.
According to Dr. Levine, advances in postoperative pain management have made outpatient joint replacement a more feasible option for many patients. Patients receive a comprehensive multimodal pain control regimen that can involve perioperative nerve blocks, anti-inflammatory medication, and/or pain medication.
"Pioneering surgical solutions that improve the patient experience, restore their health as quickly as possible, and enable them to live their best lives over the long term is the foundation and promise of our Living Health model, and there is perhaps no better example than what our team is doing to make joint reconstruction a less invasive, more effective, and less costly course of treatment for those who need it," said Patrick DeMeo, MD, Chair of the AHN Orthopaedic Institute and medical director of the Pittsburgh Pirates.
For more information on the AHN Orthopaedic Institute, visit https://www.ahn.org/services/orthopaedic.
###
About the Allegheny Health Network:
Allegheny Health Network (AHN.org), a Highmark Health company, is an integrated healthcare delivery system serving the greater Western Pennsylvania region. The Network is composed of 14 hospitals, ambulatory surgery centers, Health + Wellness Pavilions, an employed physician organization, home and community-based health services, a research institute, and a group purchasing organization. The Network provides patients with access to a complete spectrum of advanced medical services, including nationally recognized programs for primary and emergency care, trauma care, cardiovascular disease, organ transplantation, cancer care, orthopedic surgery, neurology and neurosurgery, women's health, diabetes, autoimmune disease and more. AHN employs approximately 21,000 people, has more than 2,500 physicians on its medical staff and serves as a clinical campus for Drexel University College of Medicine and the Lake Erie College of Osteopathic Medicine.
About the Orthopaedic Institute at AHN:
Part of Allegheny Health Network (AHN.org), the AHN Orthopaedic Institute is one of the largest and most comprehensive orthopaedic surgery and sports medicine programs in the state of Pennsylvania. Its more than 70 affiliated orthopaedic surgeons and sports medicine specialists provide access to a full spectrum of care for musculoskeletal injuries and diseases, including advanced, minimally invasive surgical approaches that help patients recover faster and with less pain. The Institute's comprehensive sports performance program provides individualized strength training, physical therapy, sports medicine, sports nutrition, and advanced recovery for developing youths, performing athletes and active adults. These programs follow industry-leading protocols and are supported by highly advanced technologies available in premier facilities such as the AHN Cool Springs Sports Complex in Bethel Park, Pennsylvania. Designated as an Official U.S. Olympic Regional Medical Center, AHN is one of a few leading medical providers selected by the United States Olympic Committee (USOC) to provide comprehensive medical services to elite Team USA athletes. AHN is also the official medical provider of the Pittsburgh Pirates, Pittsburgh Riverhounds, Gannon University, Mercyhurst University and nearly 30 Western Pennsylvania area high school athletic programs. To learn more, visit http://www.ahn.org/services/orthopaedic.