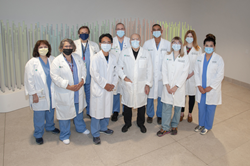 "Our ultimate goal when starting our islet cell isolation lab several years ago was to ultimately develop the transplant capabilities and become one of the few one stop shops for this highly specialized care in the country," said Dr. Thai, Director of AHN's Center for Abdominal Transplantation.
PITTSBURGH (PRWEB) October 05, 2021
Allegheny Health Network (AHN) today announced a groundbreaking new capability for treating patients who suffer from chronic pancreatitis, an inflammation of the pancreas that occurs over many years and, in severe cases, can be life-threatening. Every year, more than 80,000 people are diagnosed with the disease, according to the National Pancreas Foundation.
Surgeons at Allegheny General Hospital (AGH) have joined a select group around the country performing islet cell transplantation to restore the functions of a diseased pancreas. AGH's Institute of Cellular Therapeutics, is one of just a few in the nation that specializes in islet cell isolation, a highly sophisticated process in which islet cells, such as those that produce insulin, are extracted from the patient's removed pancreas and transplanted back into the body. For the past six years, the institute's Islet Cell Isolation Laboratory has extracted and processed these life-saving cells to assist in the care of patients at select islet cell transplant centers around the country. With the launch of its own transplant program, AHN becomes one of just a few medical centers in the nation able to provide the comprehensive therapy from start to finish.
Pancreatic islets are tiny clusters of cells scattered throughout the pancreas. Included among these islets are beta cells, which produce the hormone insulin that helps the body absorb glucose from the bloodstream and use it for energy. Diabetes develops when the pancreas does not make enough insulin, the body's cells do not effectively use insulin, or a combination of both. Massimo Trucco, MD, Director of AHN's Institute of Cellular Therapeutics and an internationally preeminent diabetes researcher, leads the islet cell extraction team at the hospital.
The islet cell transplant is critical for patients with immense pain and have failed other therapies. Dr. Trucco and his staff collaborate with AHN's gastroenterology, abdominal transplant, endocrinology, psychology and social services teams to complete the procedure and provide wrap-around patient support.
"Chronic pancreatitis is a debilitating disease that can lead to frequent hospitalizations, higher use of narcotic pain medication and a lower quality of life," said Abhijit Kulkarni, MD, FASGE, an AHN gastroenterologist who evaluates patients for the islet cell transplant procedure. "This treatment really represents the pinnacle of pain management for pancreatitis care and can be a true lifeline for the most critically ill patients."
According to Rita Bottino, PHD, from AHN's Institute of Cellular Therapeutics, the poor condition of the pancreas can make extraction of islet cells challenging. "We sometimes have to be a little creative in finding a way to inject enzymes into the organ that will break the matrix that holds the cells together. By injecting enzymes, clusters of cells or single cells will be released from the organ – and those are the kind of insulin-producing cells that we ultimately want to transplant back to the patient."
Once the islet cells are extracted and ready for transplant, AHN surgeons Harry Williams, MD, Ngoc Thai, MD, PhD, and Tadahiro Uemura, MD, PhD, transplant the cells into the patient's own liver through the portal vein. Called an autologous islet cell transplant (TPAIT), the cells continue to produce insulin to control blood sugar levels in the body, eliminating the risk of becoming diabetic.
"So we remove the diseased organ, which is causing debilitating symptoms for the patient, while creating a new pathway for insulin production in the body. And the advantage of a smaller time interval between extraction and transplant of these cells is significant and we believe will result in even better outcomes for our patients," said Dr. Williams.
Thus far, AHN has completed one TPAIT procedure and prepared more than 100 islets for regional hospitals including UPMC and The Cleveland Clinic. In addition to treating patients, AHN supplies research donor islets to Mt. Sinai Hospital, Stanford University Medical Center, Vanderbilt University Medical Center, and the universities of Pennsylvania, Miami and San Francisco, among others.
"Our ultimate goal when starting our islet cell isolation lab several years ago was to ultimately develop the transplant capabilities and become one of the few one stop shops for this highly specialized care in the country," said Dr. Thai, Director of AHN's Center for Abdominal Transplantation. "Having some of the world's foremost experts in this field at our institution, like Dr. Trucco and his team, has afforded us with an extraordinary opportunity to build an internationally leading program."
To learn more about AHN's Cellular Therapeutics Institute or Transplant program, please visit http://www.AHN.org.
About the Allegheny Health Network:
Allegheny Health Network (AHN.org), a Highmark Health company, is an integrated healthcare delivery system serving the greater Western Pennsylvania region. The Network is composed of 13 hospitals, ambulatory surgery centers, Health + Wellness Pavilions, an employed physician organization, home and community based health services, a research institute, and a group purchasing organization. The Network provides patients with access to a complete spectrum of advanced medical services, including nationally recognized programs for primary and emergency care, trauma care, cardiovascular disease, organ transplantation, cancer care, orthopedic surgery, neurology and neurosurgery, women's health, diabetes, autoimmune disease and more. AHN employs approximately 21,000 people, has more than 2,500 physicians on its medical staff and serves as a clinical campus for Drexel University College of Medicine and the Lake Erie College of Osteopathic Medicine.