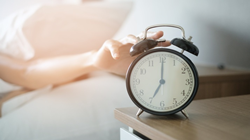 "Particularly for those who are sleep deprived, the extra hour of sleep this weekend is not enough to erase a person's total sleep debt," said Dr. Shade.
PITTSBURGH (PRWEB) November 04, 2022
This Sunday, Nov. 6 at 2 a.m., Daylight Saving Time (DST) will end in Western Pennsylvania and clocks will 'fall back' one hour. Ahead of the fall time change, which is marked by shorter days and earlier sunsets, an Allegheny Health Network (AHN) sleep specialist is sharing tips for how to adjust to the change and minimize its potential negative health impacts.
Although many will gain one hour of sleep with the switch from DST to standard time, Dan Shade, MD, sleep medicine specialist and director of the AHN Sleep Disorders Center, says any disruption to a person's sleep pattern can contribute to short- and long-term health issues.
"While a one-hour change in time might not seem significant, even slight changes made to our bodies' natural circadian rhythms increase the risk for serious health problems such as insomnia and depression, as well as poor immunity," said Dr. Shade.
Often referred to as the body's internal alarm clock, circadian rhythms help people fall asleep at night and wake up in the morning. Since they are primarily regulated by sunlight, Dr. Shade says a common challenge for people during the winter months is getting enough sunlight exposure and maintaining sufficient levels of vitamin D for proper sleep.
To help individuals prepare for the end of DST and maintain wellness related to sleep throughout the remaining fall and winter months, Dr. Shade suggests the following:

Go to bed at the same time as you normally would the evening before the time change on Saturday, Nov. 5.
Limit exposure before bed to devices which emit high-energy blue light and affect melatonin levels.
Take extra care to support your body's immune system until your body has adjusted to the change (usually within a few days) by eating a healthy diet, exercising and resting as needed.
Expose yourself to natural sunlight in the morning to help your body sync with the new sleep schedule.
Utilize light boxes or desk lamps which simulate sunlight, particularly on darker winter days, to help reset circadian rhythms and minimize risk for developing seasonal affective disorder (SAD).
Continue exercise habits to positively impact depth of sleep.
Consult with your doctor about whether taking a vitamin D supplement is right for you.
According to the NIH, about 50 to 70 million Americans have sleep disorders, and 1 in 3 adults do not regularly get the recommended uninterrupted sleep they need to protect their health.
"Particularly for those who are sleep deprived, the extra hour of sleep this weekend is not enough to erase a person's total sleep debt. Regularly practicing healthy sleep habits will aid in getting enough sleep which, for most, is between 7 and 8 hours each night," said Dr. Shade.
To learn more about the AHN Center for Sleep Medicine which provides a range of services for the diagnosis and treatment of sleep disorders, visit http://www.ahn.org/services/medicine/sleep. To schedule an appointment, call (412) DOCTORS.
###
About Allegheny Health Network
Allegheny Health Network (AHN.org) is an integrated healthcare delivery system serving the greater Western Pennsylvania region. The Network is composed of 14 hospitals, ambulatory surgery centers, Health + Wellness Pavilions, an employed physician organization, home and community-based health services, a research institute and a group purchasing organization. The Network provides patients with access to a complete spectrum of advanced medical services, including nationally recognized programs for primary and emergency care, cardiovascular disease, cancer care, orthopedic surgery, neurology and neurosurgery, women's health, diabetes and more. AHN employs approximately 21,000 people, has more than 2,600 physicians on its medical staff and serves as a clinical campus for Drexel University College of Medicine and the Lake Erie College of Osteopathic Medicine.