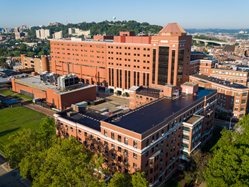 PITTSBURGH (PRWEB) July 02, 2020
West Penn Hospital, part of Allegheny Heath Network (AHN), has been named one of the nation's 100 Top Hospitals by IBM Watson Health™ for the second consecutive year.
The new report, published this week in Fortune magazine, spotlights the top-performing hospitals in the United States, based on a scorecard of publicly available clinical, operational, safety, financial, and patient satisfaction data.
IBM Watson Health™ recognizes hospitals of all sizes, in five different categories – major teaching hospitals, teaching hospitals, large community hospitals, medium community hospitals, and small community hospitals.
West Penn is among 25 facilities recognized in the "teaching hospitals" category. It is one of just two hospitals in the Pittsburgh area, and one of four in Pennsylvania, to be named to the 100 Top Hospitals® list.
"We are extremely proud to be named one of the nation's top hospitals by one of the country's most respected health care industry analysts," said Ron Andro, president of West Penn Hospital. "This honor again is reflective of the extraordinary talent and dedication of our physicians, nurses, volunteers, and employees at every level."
This year marks the sixth time that West Penn Hospital has been named to the prestigious Top 100 Hospitals list, which has been published annually since 1993. To create its 2020 list, IBM Watson Health™ researchers evaluated more than 3,100 short-term, acute care, non-federal U.S. hospitals.
"West Penn Hospital has always held a special place in the hearts of those who are cared for within its walls, and this recognition by IBM Watson Health is a wonderful validation of the clinical excellence and compassion that the hospital's caregivers provide every day to those in need," said Cindy Hundorfean, AHN President and CEO. "We can't express enough how grateful we are to Ron Andro and everyone at West Penn for consistently raising those standards."
The Watson Health 100 Top Hospitals® study uses independent and objective research to analyze hospital performance in areas such as clinical outcomes, operational efficiency, patient experience and financial health. IBM Watson Health established the list to help identify best practices that may help other health care organizations achieve consistent, balanced, and sustainable high performance.
A cornerstone of Pittsburgh's Bloomfield neighborhood, West Penn is a 333-bed teaching hospital and tertiary care facility. Among the many leading clinical programs based at the hospital are AHN's Women's Institute, Autoimmunity Institute, Esophageal and Lung Institute, blood and marrow transplant program, and the West Penn Burn Center.
The hospital continues to evolve and expand its clinical programs. In 2019, the hospital cut the ribbon on its expanded Level III neonatal Intensive Care Unit, and in the same year opened three new cancer care facilities for patients with breast, gynecologic and hematologic cancers.
In 2018, the hospital opened a first-in-the-region Healthy Food Center, which provides fresh, healthful foods to patients with diabetes who are screened by their doctor as being food insecure. West Penn is also home to the Alexis Joy D'Achille Center for Perinatal Mental Health, a one-of-a-kind program and facility dedicated to caring for women with post-partum depression and other anxiety disorders.
West Penn also was the first hospital in Pittsburgh to earn the American Nurses Credentialing Center's Magnet Recognition, the nation's most prestigious honor for nursing excellence.
According to IBM Watson Health, compared to similar hospitals, the hospitals included on the Fortune and IBM Watson list had better results on key clinical and operational performance indicators. These include survival rates, patient complications, healthcare associated infections, 30-day mortality and 30-day hospital-wide readmission rates, length of stay, throughput in emergency rooms, inpatient expenses, profitability, and ratings from patients.
"Hospitals, health systems, and the dedicated clinicians and staff who work at these organizations have emerged as true heroes of the COVID-19 pandemic and we are grateful to be able to recognize these extraordinary leaders at this time," said Kyu Rhee, M.D., M.P.P., Vice President and Chief Health Officer, IBM Watson Health.
"From small community hospitals to major teaching hospitals, organizations on this list demonstrate a relentless commitment to high value, patient-centered care and innovation. It is clear that the COVID-19 crisis will be a catalyst for reinvention, and we believe these top performing hospitals are positioned to emerge stronger and smarter out of this crisis."
For more information, visit http://www.100tophospitals.com.
###